SEMERSSUAQ + ROBERT CURGENVEN
October 4th, 2009
Two gigs of Semerssuaq and Robert Curgenven will take place soon in Italy.
In October they will share the stage in Pisa and Napoli in order to warm up before the small tour they will all have around the middle of November in North Europe.

Semerssuaq (Burp) are WJ Meatball (Jealousy Party, Sistemi Audiofobici Burp) and JD Zazie (B Unit, Sistemi Audiofobici Burp).
The freeform Cut' n Roll duo was born in Florence at the end of the 90's at the Soul Limbo Studio based in C.P.A. Fi-Sud. From that improvised, freeform/rock and electronic music scene, they developed their technique manipolating sound using basically dj tools.
Collaborations with Brynja Cortes Andrésdóttir (cello), CCMonkey (violin), Edoardo Ricci (wind instruments) and Letizia Renzini (electronics) have been occasions to deveope their language into electro-acoustic and electronic music.
In 2009, after a break of three years and a half, the project Semerssuaq started again.

Robert Curgenven (Recordedfields) builds surprising atmospheres "working with harmonics and textures as articulated not only through instruments/objects, in space and place, but also in time and the dislocation of the remote. Curgenven's sound explores shifting layers in the fabric of fields of perception, creating vast landscapes from carefully detailed recordings through to immersive resonances via deft manipulations of sound pressure. Employing only analogue means, in a variety of contexts from pure field recordings to feedback and instrumental harmonics to shape relations through sound."

So why don't we all cut'n roll on the 14th of October at Leningradcafè in Pisa and on the 15th at Perditempo for Pestival in Naples?
It could be nice to follow their gigs diving deeply into their surprising atmospheres.

Leningradcafè, Via Silvestri 5, Pisa
http://www.leningradcafe.com

Pestival, c/o Perditempo, Via San Pietro a Maiella 8, Napoli
http://www.perditempo.org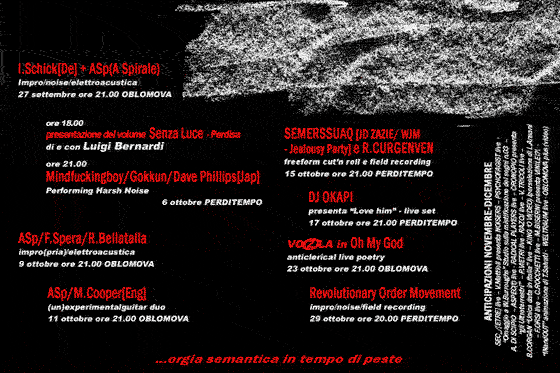 Tags: burp, JD ZAZIE, Leningradcaffè, Oblomova, Perditempo, Pestival, Recordedfields Label, Robert Curgenven, semerssuaq, WJ Meatball