March 31st, 2011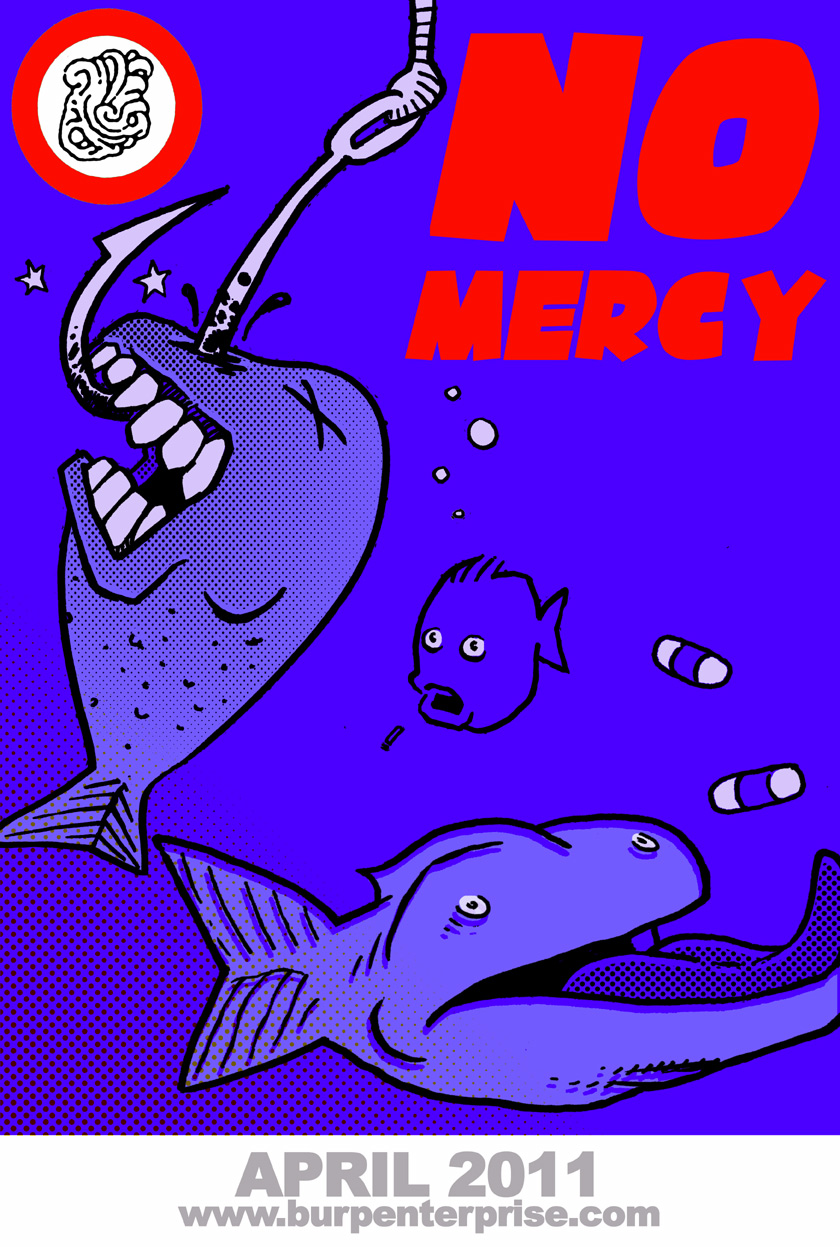 WOW. 2011 is running fast! Here's our pin up for April, art by Mat Pogo, design by Muscle Head Studioz.
No Mercy for Us brothers and sisters. Italy is into a new war again and it seems that things can't really go better. Burp Enterprise collective is in full activity though. A kiss on your nipples fatherfuckers.
Truly yours DJ BGB
————————————————————————————————-
BURP ENTERPRISE  APRIL 2011
————————————————————————————————-
::MAIN FACTS::
SQUARCICATRICI
Jacopo Andreini's free music ensemble will play few gigs this month. But some special ones. If you are around Milano check the two shows at the real beginning of the month. On April the first they will play at La Scighera recording live a new album. Don't miss it if you want to be part of it. The day after they will play directly in the belly of the berlusconian beast having a concert in Arcore's resistant place Arci Blob. Read more here, WJM did a short interview.
JEALOUSY PARTY
Getting ready for Mercato Centrale, the new album as an octet, mutant punca outfit JP will focus this month on his smallest versions as a duo and trio. A concert in Firenze will see WJM, Jimmy Gelli and Edoardo Ricci playing an electronics and reeds instrumental set at La Casa della Creatività on April the 8th. On the 23rd at N.K. Berlin JP will support OvO sharing a special evening with Ratbag + Anton Maiof and Claudio Rocchetti + Klaus Janek. JP will perform as a duo with WJM and Mat Pogo presenting new material from Mercato Centrale and their new ep Marchia Sodo out this month on the I Morsi series on Burp Publications.
TSIGOTI
Piano driven acid punks Tsigoti will extensively tour Italy in April and May. After their recent US tour the quartet led by Thollem Mc Donas on piano and vocals, Andrea Caprara on drums, Jacopo Andreini on guitar and new entry Piero Spitilli on bass will present their freshly recorded new album  in their bizarre discography. A first album as Waristerror Terroriswar out for Burp Publications and Edgetone records, a second one- the first as Tsigoti- for ESP-Disk and this third one at the moment self released in cdr format. Check the tour dates here
PENATES
After their debut last summer at the Avantgarde Festival in Schiphorst JD Zazie and Mat Pogo's time expanding project Penates will have the premiere of their abstract/concrete cabaret piece Wait & Hope on the 28th at Altes Finanzamt – Berlin during a special evening dedicated to aspects of waiting.
Is still available the limited edition compilation cassette A Day In the Life out for Staaltape, curated by Rinus van Alebeek with their contribution among others
LAPIS NIGER
Lapis Niger is the nom de plume of Uochi Toki's mc Napo when he does comics and graphic stuff. Modo Infoshop just published a groundbreaking 172 pages comicbook titled Piano Immaginario – Volume Uno – introducing the multidimensional Spadari saga. Read more about it and about UT activities here and here.
As a local promoter Burp Enterprise will support this month just one but fine event in Raum 20 – Berlin on the 12th. An evening with Rubén Patiño aka Pato, a trio composed by Dieb 13, Billy Roisz, Mario De Vega, and a duo by Martin Howse and Martin Kuentz. Our beloved JD Zazie will spin records following strictly her  Äpfelzerstörermethod.
————————————————————————————————-
::BURP PUBLICATIONS::
I MORSI
short to medium length collections of urgent music from the colonies. on streaming and downloadable format or on CD 3?in gatefold minipackage
Three new titles this month Eugenio Sanna – Fleurettes,  Jealousy Party – Marchia Sodo and Mat Pogo – All Replayed. They will be published on these pages in the next days
MHMUSIC
Slightly delayed  E. RICCI / E. SANNA / R. TURNER Live in Pisa will be published later this month?. Live in Pisa is a new cd in the Burp Publicatons MHMusic series capturing a 2006 concert by polintrumentalist Edoardo Ricci and guitar player Eugenio Sanna together with british drummer extraordinaire Roger Turner. After two legendary duo albums (Lo Scorfano Miracolato and Le Sette Premonizioni Ortofrutticole) and one album in trio with Roger Turner I Segnali Della Ritirata, all released by Burp Publications, Ricci and Sanna join forces again with Turner for Live in Pisa. A new chapter in a more than 30 years exploration on free music. Recorded by Alessandro Boscolo the cd will be available at the end of the month and distributed worldlwide in May.
BURP PUBLICATIONS
NEW RELEASES::
EUGENIO SANNA Fleurettes
MAT POGO All Replayed
JEALOUSY PARTY Marchia Sodo
E. RICCI / E. SANNA / R. TURNER Live in Pisa
JD ZAZIE Rmxmas
JEALOUSY PARTY Green Fegatello / Picchia Dentro
V.A. Easy Now, Christmas
JEALOUSY PARTY Live
R.U.N.I. Rrrruuuunnnniiii
SQUARCICATRICI Squarcicatrici
PLASMA EXPANDER Kimidazeigen
JEALOUSY PARTY + Eugenio Sanna
SEMERSSUAQ Semerssuaq
B UNIT From Indent
————————————————————————————————-
::APRIL'S UPCOMING EVENTS::
SQUARCICATRICI
april, italy
1 – La Scighera, Milano
2 – ArciBlob, Arcore
2011/04/02
EUGENIO SANNA – MAURO ORSELLI
Sottobosco
Pisa – IT
2011/04/02
UOCHI TOKI
Tambourine Club
Seregno, Milano – IT
ANARCORURAL AGROFREEJAZZ BAND
april, italy
5 – Officina Metropolis, Livorno
6 – XM24, Bologna
2011/04/07
Marzipan Marzipan Release Party
MARZIPAN MARZIPAN
BIG DADDY MUGGLESTONE
LES PARABELLES
MAT POGO
Antje Øklesund
Berlin – DE
2011/04/08
WJM / JIMMY G / EDOARDO RICCI
Casa della Creatività
Firenze – IT
2011/04/08
UOCHI TOKI
Fillmore
Cortemaggiore, (PC) – IT
2011/04/12
PATO
DIEB 13/BILLY ROISZ/MARIO DE VEGA
MARTIN HOWSE/MARTIN KUENTZ
DJ JD ZAZIE
Raum 20
Berlin – DE
TSIGOTI
italian tour – april/may
april
13 ROMA DalVerme
15CASTELLAMARE DI STABIA Officina democratica tbc
16 BOSCOREALE ex Stazione FS
19 CATANIA ZO Culture tbc
20 RAGUSA Lebowsky
21 GANGI Agriturismo Capuano
24 PALERMO tba
25 MARINA DI GIOIOSA JONICA Blue Dhalia
28 COPERTINO i Sotterranei
29 MOLFETTA Le Macerie
30 SAN GIORGIO JONICO Hotel de Ville
may
1 CORSANO Japigie
2 LUGO Lughé
3 KOPER (Slovenia) MKC
4 BOLOGNA XM24
5 FIRENZE Circolo Aurora
6 PESARO Dalla Cira
7 SAN VITO DI LEGUZZANO CSC
2011/04/23
OVO
JEALOUSY PARTY
RATBAG &ANTON MAIOF
CLAUDIO ROCCHETTI & KLAUS JANEK
N.K.
Berlin – DE
2011/04/28
PENATES
Altes Finanzamt
Berlin – DE