July 22nd, 2007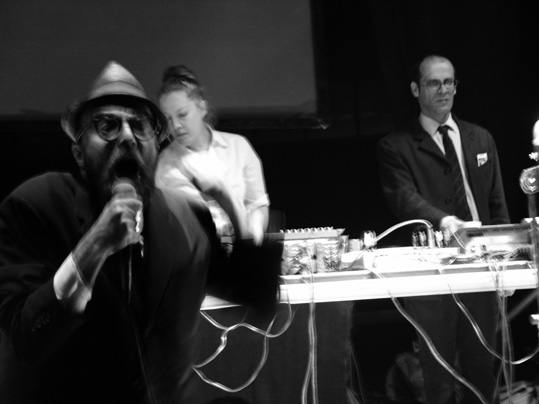 Wow. We've been working pretty hard to end the new Jealousy Party album.
And i'm happy to say we feel more than satisfied with it.






We recorded at the Isola Cannon Jack Studio located in the amazing podere S. Giuseppe in Nipozzano. Right in the countryside out of Florence, Tuscany, Italy, Europe, Earth.
Andrea Caprara and Jacopo Andreini recorded and mixed the material. We are waiting for the mastering that will be done by Rico of Uochi Toki at his own Fiscerprais studio.
The result is probably the most orchestrated thing we ever recorded.











As a matter of fact this album capture the Jealousy Party in a full extended line up as we recently played live switching from six or seven elements. In the studio the JPcore of WJ Meatball (jp set), Edoardo Ricci (saxophones, bass clarinet and trombone) and myself (voice and pre-recorded material) was joined by long time members Jimmy Gelli (laptop), Jacopo Andreini (drums, alto saxophone, guitars);












Stefano Bartolini(tenor and baritone saxes) joined us also for some fantastic playing; Then we had finally the pleasure to organically introduce in the group the multiqualities of Andrea Caprara who played tenor saxophone, bass guitar and percussions. We've been joined also by Niccolò Gallio on trombone, who played live at Tagofest, and hopefully will be an active presence in our developing explorations.






Matteo Bennici brought us some wild cello playing, some funky bass lines and good vibrations (yeah!). And Ruben Caliandro add some trumpet flavour to the JP horn section. So as you can see we were a big group of people and we had some real fun in the jealousy party stylee.







Not forgetting apocalyptic crooner Pippo Picchietti of N.E.E.M. who joined us for a "Dancing Naked at the Jealousy Party", kind of cannibal Statler and Waldorf meeting Ettore Petrolini at a pedophile hip hop convention. A track that will be not included in the album but stands for the beginning of a new future recording project. Last but not least joined the JP recordings Machisei and young Augusto Gelli for some dancing and hollering.