November 28th, 2010

05.12.10 – 21:00 hrs .
RAUM20.
Ziegrastraße 11, 12057 Berlin
DIE SCHRAUBER
Hans Tammen. Endangered guitar / sound processing
Joker Nies. Omnichord / modified electronics
Mario de Vega. Mics / electronics
The trio DIE SCHRAUBER produces a wide variety of dense musical textures and high-energy interaction. With veteran circuit bender Joker Nies (Cologne), sampling artist Mario deVega (Mexico City) and Hans Tammen (New York) on Endangered Guitar and live sound processing, the trio exerts extreme control over their bizarre instruments.

Mat Pogo – cdj / voice
Ignaz Schick – turntables / electronics
Mat Pogo & Ignaz Schick haben im Sommer 2009 angefangen als Duo zusammen zu arbeiten, sind bislang erst zweimal in Berlin gemeinsam aufgetreten und wollen ihre Zusammenarbeit nun fortsetzen.
Ihre Musik ist sehr schnell, nahezu Cartoon-ähnlich und hochenergetisch. Zugleich verlieren sie nie den Sinn für die genauesten Details und Nuancen des Klangs. Pogo ist einer der interessantesten Vokal-Performer der jüngeren Generation (post-Minton & post-Moss), er verkörpert alle möglichen vokalen Klänge, von abstrakt bis konkret, von realer zu erfundener Pseudo-Sprache.
Ignaz Schick lebt als Klangkünstler in Berlin und hat im weitesten Sinne mit klangbasierter, konzeptueller Arbeit zu tun. In seinen live Performances erweitert er den Gebrauch des Plattenspielers in seinen extremen Möglichkeiten. Er nutzt fast keine Platten in seinen Sets, sondern spielt direkt mit Gegenständen auf dem Gerät. Sein Interesse und seine Neugier decken viele verschiedene Spielarten experimenteller Musik ab.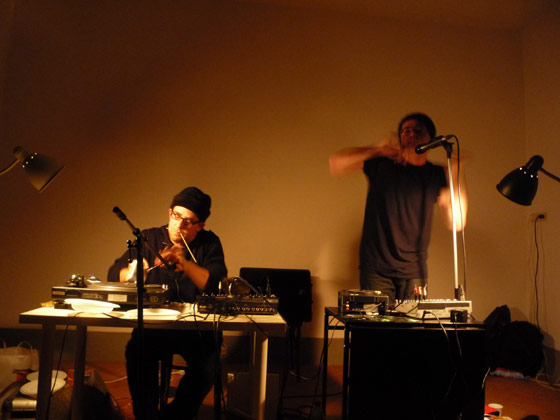 Julian Bonequi – Drums / voice
Julian is a Mexican artist working mostly with Noise and Improvisation. Parallely with his development and professional interest in Art and Design, since 1995 is devoted to Music.
Curator of Audition Records, Dissemination of Musicalibre, drums on F.O.C.O. Orchestra,  Berlin Improvisers Orchestra… has performed with FOCO under the conduction of William Parker, Keith Tippett, Eddie Prévost, David Leahy, Michael Fisher…
Julian currently is working with manipulated drums, electronics and voice as soloist.

Bonequi at NK 12.06.10 from julian bonequi on Vimeo.
DJ set: JD Zazie