JD ZAZIE AT AUDIOSCOOP – MAASTRICHT 2009/10/10
October 6th, 2009
10 Oktober 2009 / 20h30
Stadhuis Maastricht (grote markt)
Klankwerplaats Stichting Intro in SituCapucijnengang 12
MAP Entree 6 euro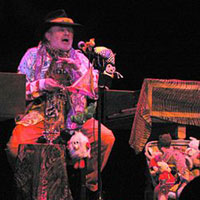 Charlemagne Palestine (USA/B)
A contemporary of Philip Glass, Terry Riley, Phill Niblock, and Steve Reich, Palestine wrote intense, ritualistic music in the 1970s, intended by the composer to rub against Western audiences' expectations of what is beautiful and meaningful in music. Although his earliest works were compositions for carillon and electronic drones, he is perhaps best known for his intensely performed piano works, which almost seem ritualistic: he generally surrounds himself (and his piano) with stuffed animals, smokes large numbers of kretek, and drinks cognac.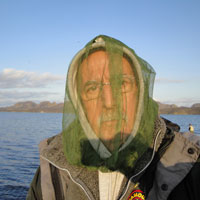 Rod Summers (UK/NL)
"As children we were taught that the Universe was Infinite and that Time was Eternal…"
Rod Summers (1943 Verwood, England, Living in Maastricht, NL since 1973) has been producing and recording audio art for more than 40 years.
Now he will take us on his acoustic journey with his new piece "the Size of Time', a prepared piece with live interventions, where his fascination to spatiality has a central role.
"Twinkle, twinkle little star, Now I know just what you are!"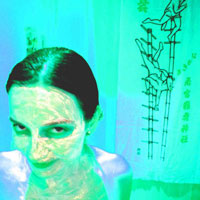 JD Zazie (It/D)
What happens when a DJ uses her specific language to build up a temporary sonic environment with urban soundscapes?
Recognizable sounds, everyday sounds, urban sounds are mixed together creating a new abstract decontextualized environment, in order to create an intimate aural dialog with the listeners. The result could relate with your own sonic identity? What are you listening to? Jd Zazie takes you along on a adventurous auditory trip.

Bart Koppe (NL) ('Mixing Cities')
Mixing Cities brings together the real time, live sounds of several cities in an audiovisual installation. The environmental sounds at five locations are picked up by microphones and directly transmitted to Mixing Cities. One can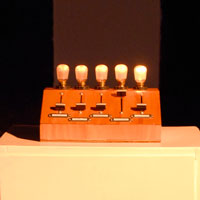 adjust the volume of the incoming sounds by using the faders. In this way it is possible to listen to the sounds of one or more cities at the same time. Apart from the live sound, the current lighting at the locations is registered with sensors and directly translated into the light intensity of the lamps. By choosing and switching between the cities one can make his own journey between the cities and get a different experience of distances and space.
Tags: audioscoop, bart koppe, charlemagne palestine, JD ZAZIE, rod summers