March 1st, 2010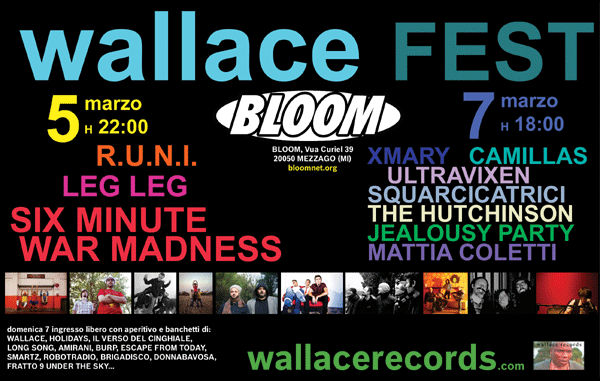 Crucial indie label for Italian underground music Wallace records and his factotum Mirko Spino will celebrate more than ten years of activity at Bloom club – via Curiel 39 – Mezzago – Milano
During the two days festival ten acts will perform presenting their brand new releases
March 5th – h.22
R.U.N.I.
LEG LEG
SIX MINUTE WAR MADNESS
March 7th – h.18
X MARY
CAMILLAS
ULTRAVIXEN
SQUARCICATRICI
THE HUTCHINSON
JEALOUSY PARTY
MATTIA COLETTI
Support Wallace Rec. the label that gives you hard time while you try to define what avantgarde punk rock music could mean. Me cojoni
wallaceFEST 5&7 marzo @ BLOOM
La Wallace "resiste" ed è in gran forma.
Dedicata a chi abbisogna di succulente cibarie musicali, WallaceFEST offre un'indigestione di live performance per il week end d'inizio marzo (venerdì 5 & domenica 7): conviene of course approfittare dell'offerta speciale!
Dopo un anno passato a rispondere a increduli intervistatori circa la longevità di una delle poche etichette indipendenti ancora vive e vegete, Mirko Spino, one man label di Wallace Records, continua a remare e gira attorno alla boa dei dieci anni di fatiche.
Wallace festeggia con le 10 – guarda un po' il caso – band che tra il 2009 e il 2010 hanno tirato fuori altrettanti album nuovi di zecca, a dimostrazione matematica delle frenetiche attività musicali dell'etichetta.
"La scelta del Bloom non è casuale – ammette Spino – non è solo il locale che ci ospita, piuttosto si tratta di una partnership: il Bloom è storico e importante sul territorio ed ha formato molte realtà, tra cui la Wallace". Un vero e proprio omaggio, dunque, per il locale/cooperativa dai vent'anni di attività.
5 marzo ore 22.00
Venghino signore/i ad ammirar i SIX MINUTE WAR MADNESS indimenticabile band-culto milanese del suono Jungle Sound degli anni novanta, ancora oggi incastonata nei cuori di tanta brava gente. Per l'occasione sarà presentata la ristampa di Full Fathom Six che comprende, in aggiunta alla versione originale, un CD pieno zeppo di live, demo, singoli ed inediti. Nel bel mezzo del tour che li sta portando per tutta la sventurata penisola, i R.U.N.I. presentano live per la prima volta "in casa" il loro quarto, osannato ed omonimo album con il consueto spettacolo circense. Affianco a cotanti veterani del rock n' roll , l'anima giovane dell'etichetta è rappresentata dagli anconetani mathrockers LEG LEG che con l'album d'esordio Manta sono l'ultima band entrata nel roster Wallace
7 marzo ore 18.00
Il day2 della festa parte all'ora dell'aperitivo, ad omaggiare la buona tradizione meneghina. ULTRAVIXEN chiudono con la performance del 7 marzo il fitto girovagare durato un anno, in cui hanno energeticamente presentato Avorio Erotic Movie; ma non si arrestano: alacri lavorano al nuovo disco. JEALOUSY PARTY soulmates fiorentini dall'etichetta Burp Enterprise per portare dal vivo proprio l'album JP live, ultima uscita del catalogo Wallace. Dopo una breve pausa lontano dai palchi tornano live gli X-MARY a deflagrare il palco del Bloom con il loro cocktail di Cccp, Germs e Luca Carboni. Chi già sa di cosa si parla è in trepida attesa. E dove c'è X-MARY spesso c'è CAMILLAS: il duo composto dai fratelli Ruben e Zagor probabilmente presenterà il proprio spettacolo happycore come dal CD Le Poltiche del Prato. O forse no, ma sicuramente piacerà ai numerosi infanti presenti. Il quintetto SQUARCICATRICI dal vivo si presenta con una nuova formazione arricchita dal violoncello e da un doppio basso, proponendo il suo irrestibile mix di jazz e bossanova: è Afro Punk. Definizioni fantasiose anche per inquadrare la musica dei THE HUTCHINSON: math/funk/freak/70s jam rock, comunque sia . un treno in corsa. In ultimo, chissà dove suonerà MATTIA COLETTI, con la sua chitarrina ed improbabili oggetti sonori: forse al bancone del Bloom, forse sulle scale del cinema, forse in cortile.