Recent posts

Recent comments

Random posts

Post count

Categories

Archives
new releases

JEALOUSY PARTY
Punca Nova
(Das Andere Selbst)

JEALOUSY PARTY
All Yours
(Audition)

JEALOUSY PARTY
Mercato Centrale
(Burp)

CLARENCE MANUELLO plays ARNAUD RIVIERE
(Attila Tralala / Bimbo Tower / Burp / Les Potagers Natures / ROMVOS)

EDOARDO RICCI / EUGENIO SANNA / ROGER TURNER
Live in Pisa
(Burp)

WJM
No
(Burp)

PIACENTI QUADERNINI #9

recent events




2015/04/10
biegungen im ausland
JD ZAZIE / KAZUHISA UCHIHASHI / UTE WASSERMANN / MICHAEL ZERANG
Ausland
Berlin – DE

2015/04/11
Re:Centering Periphery
LIQUID CITY WORKSHOP
SISTEMI AUDIOFOBICI BURP
Urban Spree Gallery
Berlin - DE

2015/04/12
Multiversal 3x3
ICH BIN N!NTENDO
MARGARET UNKNOWN vs BEEATSZ
DJ WJM
XB Liebig
Berlin - DE

2015/04/17
SISTEMI AUDIOFOBICI BURP
Del Rex
Berlin - DE

2015/04/23
ILOG + MAT POGO
Sowieso
Berlin – DE

2015/04/25
Fraction.Bruit #7
JEALOUSY PARTY
& HORROR
THE REVENGE OF THE ROTTEN JELLYFISH
JOKE LANZ
DJ JD ZAZIE
N.K.
Berlin - DE




2015/05/06
Multiversal #54
SEC_
WJM
MARIO GABOLA
IGNAZ SCHICK
Altes Finanzamt
Berlin - DE

2015/05/09
Emitter micro 2015
JIM HAYNES
NIKO LFO
BEST BEFORE UNO
DJ JD ZAZIE
N.K.
Berlin - DE

2015/05/13
Dzialdov concert series
AGNES HVIZDALEK / JD ZAZIE DUO
SEBASTIEN BRANCHE
AUDREY CHEN / MICHAEL VORFELD DUO
Dzialdov
Berlin - DE

2015/05/14
DJ JD ZAZIE
DELMORE FX
AVJ CHUUU
Madame Claude
Berlin - DE

2015/05/30
JD ZAZIE
Bartleby
Berlin - DE
E-NEEEEM PROJEKTRAZZ
February 19th, 2009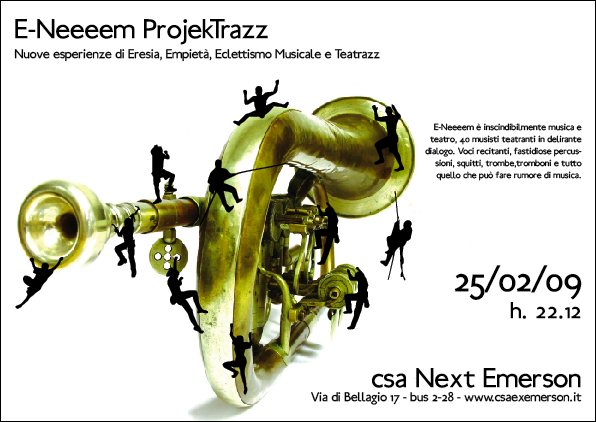 Next week a great musical meeting in Florence, Italy. For the first time in 2009 and after more than 30 years of activities the crazy-fabolous-eclectic-improvised orchestra of N.e.e.m. will perform with old and new members!
The 25th February about 40 musicians will be together on the stage of Next Emerson.
Don't miss it…. And your life will be changed forever.
Published by dj baba giovanni bauli | Posted in burp system, N.E.E.M. | Comments Off on E-NEEEEM PROJEKTRAZZ