January 3rd, 2010

Organized by Burp Enterprise, San Giuseppe Records and Frigorifero and curated by Roberta WJM Andreucci, the Soul Limbo Sessions, a monthly series of concerts and performances dedicated to experimental and improvised languages, will continue in 2010 at La Cité, Borgo S. Frediano in downtown Florence. Italy.
At the moment we proudly announce the first two appointments

Sunday January 17th
M TABE
solo guitar
+ dj set: Sistemi Audiofobici Burp
M TABE aka Marco Tabellini plays electric guitar. Born in 1985, he hasn't followed any academic course, developing a particular range of etherogeneous techniques and sounds. From Winter 2005-2006 to Spring 2009 he's been playing with the group Auto da fè. During the year 2007 he started home-recording solo electric guitar improvisations, inspired by avant-garde jazz and contemporary classical composers. In winter 2007-2008 he met the Bologna improvisers scene, attending open jam sessions and playing a number of concerts of free improvisation with different groups. In 2009 he's been focusing on more structured improvisation. He shared stages with Renato Ciunfrini, Stefano Colli, Antonio d'Intino, Dario Fariello, Stefano Ferrian, Filippo Giuffrè, Stefano Giust, Andrea Grillini, Nicola Guazzaloca, Tristan Honsinger, Enrico Malatesta, Edoardo Marraffa, Brian Mitchell, Manuel Mota, Patrizia Oliva, Stefano Pilia, Beppe Scardino, Vincenzo Vasi, Zona MC, Antares, and others, in stable or impromptu ensembles… In March 2009 Setola di Maiale released his first album, "15 improvisations for solo electric guitar". His second album, "12 improvised compositions for solo electric guitar" (always on Setola di Maiale), is published in June 2009. Now he's working on a new project involving written scores.

Sunday February 21st
SEMERSSUAQ
WJM: mix, cd players, minidiscplayer, microphones
JD ZAZIE: mix, cd player, turntables
+ dj set: Sistemi Audiofobici Burp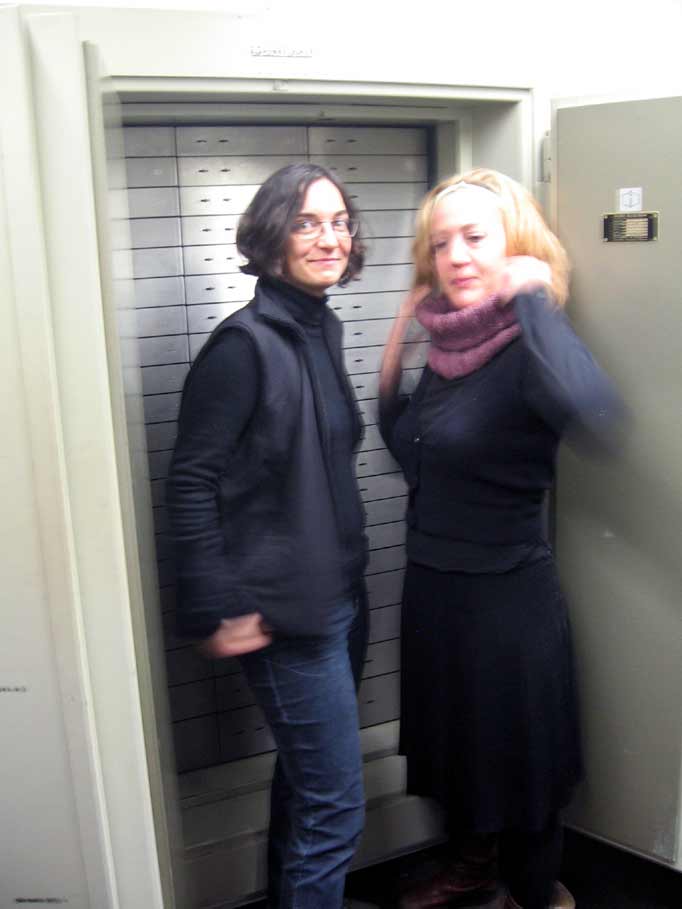 Semerssuaq are WJ Meatball (Jealousy Party, Sistemi Audiofobici Burp) and JD Zazie (B Unit, Sistemi Audiofobici Burp).
The freeform Cut' n Roll duo was born in Florence at the end of the 90's at the Soul Limbo Studio based in C.P.A. Fi-Sud. From that improvised, freeform/rock and electronic music scene, they developed their techniques manipulating sound using basically dj tools.
Collaborations with Brynja Cortes Andrésdóttir (cello), CCMonkey (violin), Edoardo Ricci (wind instruments) and Letizia Renzini (electronics) have been occasions to deveope their language into electro-acoustic and electronic music.
In 2009, after a break of three years and a half, the project Semerssuaq started again. They recently toured with TSÜ (Robert Curvengen and Joerg Maria Zeger) and performed at Staalplaat Radio .

They recorded some new material with Andrea Caprara at Isola Cannon Jack Studio with Andrea Caprara and have out a 3″cd in the Burp Sonic Inventions series for Burp Publications

check here for some recent posts about them
.

Since now the new Soul Limbo Sessions showed a variety of combinations dealing with suggestions coming from radical impro, out pop, electroacoustic, avant rock, turntablism and more. The whole series will be documented carefully very very soon. Stay Tuned.
It follows the list of the last sessions

2009/ Nov 22
Soul Limbo Session # 8-221109
DESSEARDORE DESSEARDAR
Gi Gasparin : voce, chitarra
Jacopo Andreini : batteria

2009/ Oct 25
Soul Limbo Session # 7-251009
BURP VS. BURP
WJM – Mat Pogo : mix
(JP/Sistemi Audiofobici Burp)
pedàgo-go dj set

2009/04/05
SOUL LIMBO SESSION #6-5409
EUGENIO SANNA-Osservatorio Meteorismico

2009/8/3
SOUL LIMBO SESSION #5-8309
3/3 B UNIT
JD Zazie / Mat Pogo / Peter Schlewinski

2009/02/08
SOUL LIMBO SESSION #4-8209
FILARIO FARINOPPO

2009/01/11
SOUL LIMBO SESSION #3-11109
TERRASTATIC
DJFDM / RUBEN CAMILLAS / ZAGOR CAMILLAS

2008/12/21
SOUL LIMBO SESSION #2-211208
WJM / RICCI / NICOTINA + DEAR HEARTS

2008/12/07
SOUL LIMBO SESSION #1-71208
CAPRARA / BENNICI / FEGA
La Cité – Firenze (I)