April 2nd, 2011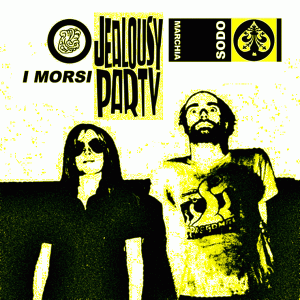 A new release in the I Morsi series and is Jealousy Party time again!
JEALOUSY PARTY
Marchia Sodo
mo4 Burp Publications – I Morsi
April 2011
Marchia Sodo is a 14 minute shot by the Queens Of Punca.
JP, this time as a duo, delivers 3 tunes in audiophobic fashion playing and replaying their audio archives. Enjoy.
At the moment Marchia Sodo is available in streaming format or in limited cdr3? in gatefold package.

JEALOUSY PARTY is an abstract r&b noise unit.
Keeping a mutant shape since 1995.
This month they will concentrate on small formats playing as a trio (WJM, Jimmy Gelli and Edoardo Ricci) April the 8th at the Casa della creatività in Florence, Italy and as a duo (WJM, Mat Pogo) April the 23rd in N.K. – Berlin.
More specific notes about those two concerts soon here on the blog
JP have an album as an octet coming out soon titled Mercato Centrale. You can taste a single from that here
::::::::::::::::::::::::::::::::::::::::::::::::::::::::::::::::::::::::::::::::::::::::::::::::::::::::
I MORSI
short to medium length collections of urgent music from the colonies.
mo4 JEALOUSY PARTY / Marchia Sodo
mo3 DJ JD ZAZIE / Rmxmas
mo2 SEMERSSUAQ / Semerssuaq
mo1 B UNIT / From Indent
next
mo5 EUGENIO SANNA / Fleuretts
mo5 MAT POGO / All Replayed