SEMERSSUAQ JUMP INTO GLUE AND ASK THEMSELVES "IS IT MY WORLD?"
November 8th, 2010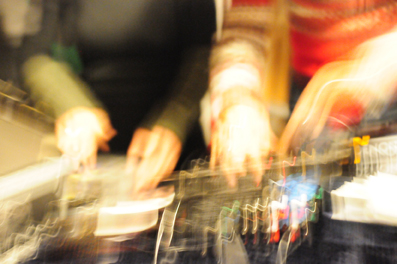 This is a special month for Semerssuaq, they'll play three times wearing different dresses.
On the 9th you can find them in Florence at Glue – Alternative concept space – .
Be careful, you'll be stucked on their free form cut'n roll.
Their performing act will be joined by the live painting of Alessia Castellano & Gaia Lipani. This wonderful night will be opened by the songwriter elio p(e)tri at 8:30 pm and will end with DisOrder's Dj set.
Glue – Viale Manfredo Fanti 20 – Firenze

Relating to visual and to text on the topic womenbeings: words in contexts, WjM and JD Zazie – core of the band – will dress XL together with Veronica Citi and Agnese Fortuna. Sonic distortions and modulations in extemporary processing will relate with short video pieces concerning tales of everyday tensions between affective language and languages of professional context.
The premiere of this project will be shown on the 12th November at Teatro S. Genesio in Rome during the annual conference organized by  Coordinamento Teologhe Italiane . The topic of this year will be "Lingua madre, lingue figlie? Tra sapere della vita e teologie". More details on the contents of the conference can be found on their web site. The conference will start at 3pm. The beginning of their show will be at 5:30 SHARP.
Teatro S. Genesio – Via Podgora 1 – Roma
The third night will be in a completely different context. Semerssuaq were asked as duo combination to join "Is it my world?", the first of a series of appointments curated by the italian dance company Kinkaleri at SpazioK in Prato (Tuskany).
"Is it my world?" will start on the 19th November and will end on the 27th. In its schedule Davide Savorani_Black Fanfare &Guests, Cristian Chironi, Zona mc, Barokthegreat, Semerssuaq and Dewey Dell will present their works.
This project is a section of the main event daTo danza in Toscana.
Semerssuaq will perform on the 26th sharing the night with Barokthegreat.
The night will start at 9 PM.
SpazioK – Via Santa Chiara 38 – Prato (Fi)
Tags: agnese fortuna, JD ZAZIE, semerssuaq, veronica citi, WJ Meatball