BURP NEWS – SEPTEMBER 2011
September 8th, 2011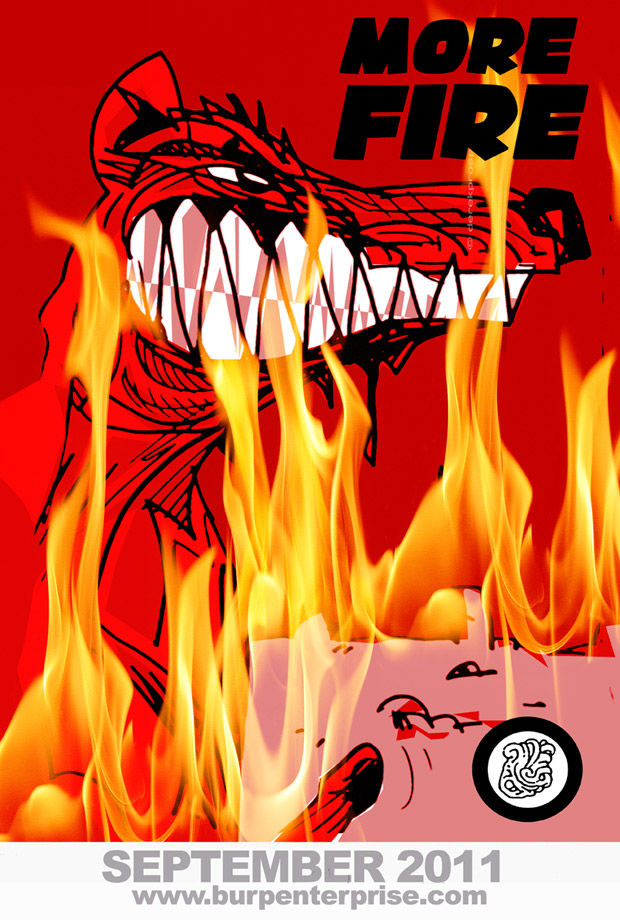 No way to delay that trouble coming everyday.
It's one year now we are celebrating 20 years of Burp. There's 4 more months left. This is the best party ever.
Here's our pin up for this month, art by Mat Pogo, design by Muscle Head Studioz.
Everything is burning here. I don't know where i am anymore. i can't breathe anymore. Enjoy the Burp.
Truly yours DJ BGB
————————————————————————————————-
BURP ENTERPRISE SEPTEMBER 2011
————————————————————————————————-
::MAIN FACTS::
Here follows a list of Burp Enterprise's members main activities. Some events, links and close examinations will be added and upgraded during the month, so please feel free to come back to check them if you are interested.
PIACENTI QUADERNINI
Burp Enterprise's Anthology of Little Pleasures new series online.
In the 90's among the many Burp paper issues mainly dedicated to comics, graphics and music Piacenti Quadernini stood up as Burp Enterprise's most ambitious rag presenting for the first time in Italy unpublished material by Dr. Timothy Leary and poetry by Billy Childish among many other delights.
Now PQ are back again in digital format through tumblr.
Enjoy experimental #0 and growing in real time september's #1 here.
JD ZAZIE
Valeria Merlini aka JD Zazie will curate
Instant Cut
: a section in the
Transart
festival in Bozen, dedicated to the art of Turntablism. Anticipated by a two day
workshop
on experimental turntablism held by Ignaz Schick on September 22nd and 23rd, Instant Cut will take place on the 24th with
Arnaud Rivière
,
Ignaz Schick
,
DJ Sniff
and
Økapi
playing solo sets and combinations.
Jd Zazie
will also do a dj set on the 23rd after
Laurie Anderson
's concert.
JEALOUSY PARTY
In early september JP together with Burp Enterprise's favourite graphic unit Muscle Head Studioz will close the artwork and the special packaging for their new album Mercato Centrale which will eventually come out this fall on Burp Publication. Start preorder copies now.
On September 17th JP will perform BEIM DOKTOR CALIGARI a musical piece together with Father Murphy, Uochi Toki's  producer Rico and songwriter Alessandro Fiori. The performance will be part of the festival Festival Arca Puccini – Caligari 2011 (sept 11 – 18th) in Pistoia- Italy.
Almost closed the booking for an italian late october tour for the JP trio of WJM, Pogo and Ricci. Please write at djbgb@burpenterprise.com if you are interested
::BURP PUBLICATIONS::
I MORSI
short to medium length collections of urgent music from the colonies. on streaming and downloadable format or on CD 3?in gatefold minipackage
Three new titles this month WJM – No, Eugenio Sanna – Fleurettes and Mat Pogo – All Replayed.
They will be published on these pages in the next days

MHMUSIC
Slightly delayed again E. RICCI / E. SANNA / R. TURNER Live in Pisa will be published in September?. Live in Pisa is a new cd in the Burp Publicatons MHMusic series capturing a 2006 concert by polintrumentalist Edoardo Ricci and guitar player Eugenio Sanna together with british drummer extraordinaire Roger Turner. After two legendary duo albums (Lo Scorfano Miracolato and Le Sette Premonizioni Ortofrutticole) and one album in trio with Roger Turner I Segnali Della Ritirata, all released by Burp Publications, Ricci and Sanna join forces again with Turner for Live in Pisa. A new chapter in a more than 30 years exploration on free music. Recorded by Alessandro Boscolo the cd will be available at the end of the month and distributed worldlwide in October 2011.
NEW RELEASES::
WJM No
EUGENIO SANNA Fleurettes
MAT POGO All Replayed
JEALOUSY PARTY Marchia Sodo
E. RICCI / E. SANNA / R. TURNER Live in Pisa
JD ZAZIE Rmxmas
JEALOUSY PARTY Green Fegatello / Picchia Dentro
V.A. Easy Now, Christmas
JEALOUSY PARTY Live
R.U.N.I. Rrrruuuunnnniiii
SQUARCICATRICI Squarcicatrici
PLASMA EXPANDER Kimidazeigen
JEALOUSY PARTY + Eugenio Sanna
SEMERSSUAQ Semerssuaq
B UNIT From Indent
————————————————————————————————-
::SEPTEMBER'S UPCOMING EVENTS::
2011/08/31
Festival Ankunft
BETT4
Joke Lanz
(turntables)
Ignaz Schick
(turntables)
Dawid Szczesny
(turntables)
JD Zazie
(turntables)
Berliner Hauptbahnhof
Berlin – DE
2011/09/01
EUGENIO SANNA / LUCA TILLI
Metarock 2011
Parco della Cittadella
Pisa – I
2011/09/02-03
MAT POGO / IGNAZ SCHICK
Dampfzentrale
Bern – CH
2011/09/02
SQUARCICATRICI
Circolo Aurora
Firenze – IT
2011/09/03
Magnolia Parade
VERBAL
SQUARCICATRICI
THE EX & BRASS UNBOUND
dj: DUBBY COOKIES
Magnolia
Milano – IT
2011/09/04
WET N' WILD
Sucked Orange Gallery
Berlin – DE
2011/09/05
experimontag
JD ZAZIE
JULIE ROUSSE
DJ ONDULA
Mme Claude
Berlin – DE
2011/09/07
LA RIVINCITA DELLE MACCHINETTE #7
Adern X
@Hanoi
Museo di Decadenza
Michele Luccioletti
Spritz 'n' Tribe
Data Eater
Davide Crazepan
L/L
Teatro IL Moderno
Agliana – Pistoia – IT
2011/09/08
DEAR HEARTS
212th & HILLSIDE
Don Pedro
Brooklyn, NYC – USA
2011/09/09
SISTEMI AUDIOFOBICI BURP
morbid onions dj set
circolo Aurora
Firenze – IT
2011/09/17
BEIM DOKTOR CALIGARI
with
JEALOUSY PARTY
ALESSANDRO FIORI
FATHER MURPHY
RICO (UOCHI TOKI)
INFLUX
MARCO SMACCHIA
Teatro Bolognini
Pistoia – IT
2011/09/23
transart 11
DJ JD ZAZIE
ELECTRIC INDIGO
LAURIE ANDERSON
Officine FS
Bolzano – IT
2011/09/24
transart 11
ISTANT CUT
the art of turntablism
OKAPI
ARNAUD RIVIERE
IGNAZ SCHICK
DJ SNIFF
Ex-Alumix
Bolzano – IT
2011/09/28
MARIO GABOLA / ARNAUD RIVIERE
MARCO BALDINI / EDOARDO RICCI
circolo Aurora
Firenze – IT