DEAR HEARTS AT HANK'S SALOON
July 25th, 2011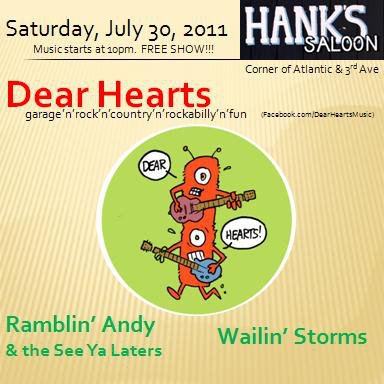 saturday July 30th
h 9 p.m
46 3rd Ave (corner of 3rd Ave & Atlantic Ave)
Brooklyn, NY
Dear Hearts
Dear Hearts: PLAYING FIRST @ 9pm
This guitar-rockin' two-piece (that'd be two guitars, ma'am), has brought its garage/ rockabilly/ country noise to Italy, Germany–and now Brooklyn, too! Show up early/on time, you don't want to miss 'em–they might even play you a Loretta Lynn number if you ask real nice.
Wailin' Storms:
You've heard 'em tear it up on the GaragePunk Hideout Comp, now see 'em live!
Ramblin' Andy & The See Ya Laters:
This band has it all–even a washtub bass.
If you missed them last time around, don't make the same mistake twice!
Show starts 'round 9:00pm–get there early, you don't want to miss a minute of this stompin' show!
Oh, and admission is FREE!
Tags: DEAR HEARTS, hank's saloon, Ramblin' Andy & The See Ya Laters, Wailin' Storms