BURP RENDEZ-VOUS / 04.08.2011 – BERLIN
July 24th, 2011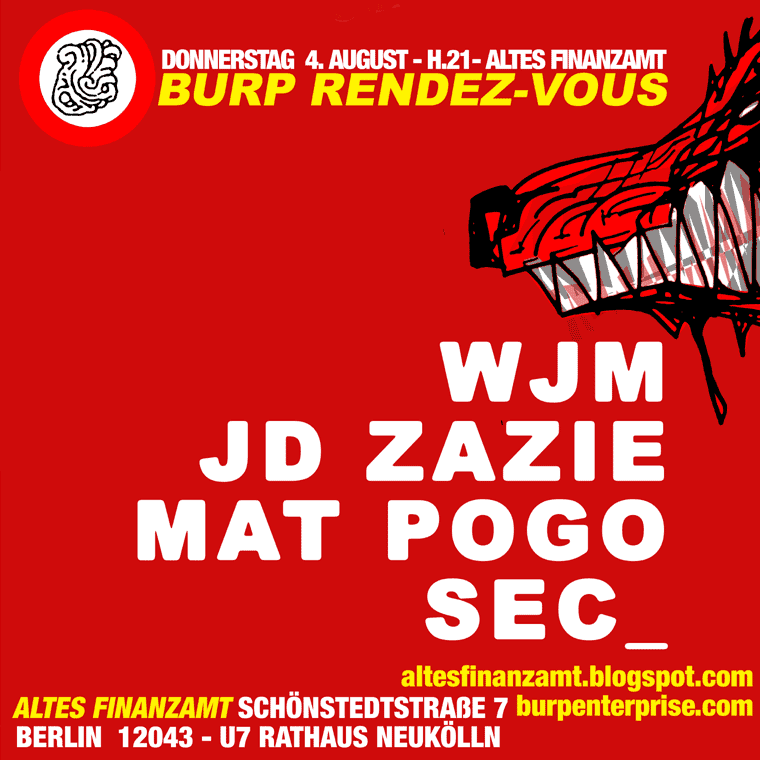 BURP RENDEZ-VOUS
Thursday, August 4
with
Mat Pogo: actual and recorded vocal
JD Zazie: mixer, cd player
WJ Meatball: mixer, cd player
SEC_: revox tape recorder, no-input
Cuts, manipulations, fast and furious synchopation, field-recordings, musique concrète degeneré…
Burp Enterprise and Altes Finanzamt present an amazing Rendez-Vous between Berlin based Mat Pogo and JD Zazie and italian holding up WJ Meatball and SEC_. Their meeting and collaboration is quite long-aged, but for the first time the four are going to play all together.
Altes Finanzamt
Schönstedtstraße 7 – EG Neukölln 12043 Berlin Access through the yard
U7 Rathaus Neukölln (Exit Schönstedtstraße)
Mat Pogo
Born in Rome is a vocalist and graphic artist now resident in Berlin. In the 90?s he's a founder members of the Burp Enterprise collective and Jealousy Party, one of the most advanced musical units in Italy, mixing with personal touch soul, improv, avant rock, noise and error music.
In the years he developed his own language as a singer/voice-artist using his experience as a rock singer, an improviser and radio-artist where music, sounds, anecdotic and narrative elements fuse constantly.
Beside Jealousy Party other projects he's currently involved are Pokemachine (with Anders Hana), Penates (with JD Zazie), B Unit (with JD Zazie and Peter Schlewinski), duo collaborations with Ignaz Schick, Michael Renkel, Nicolas Wiese and DJ collective Sistemi Audiofobici Burp.
JD Zazie
JD Zazie is an italian sound artist based in Berlin with a long DJ background in radio (experimental electronic music, radio art) and live performance. Overlayering sonic textures and cutting them up with the "Äpfelzerstörer" method she explores the potentiality of DJ tools as turntable, mixer and cd players in order to build up surprising, abstract and de-contextualized sound atmospheres.
Besides her DJ/solo project she plays in such bands as Semerssuaq, Penates and B-Unit, in different combinations improvising with different musicians and with the DJ collective Sistemi Audiofobici Burp.
She has partecipated in several exhibitions, festivals and events in Europe, UK and Canada as well as bieng a member of the italian label Burp Enterprise and being active in the team.
WJ Meatball
Living in Florence, Roberta WJ Meatball is very active as musician, dj, organizer and producer. Founder member of Burp Enterpirse collective and Jealousy Party musical unit, she works with dj tools, mixing, stratching, manipulating and de-contextualizing original samples, electronic-experimental moments, musique concrete and soul-funk sketches.
She regularly plays with Jealousy Party, Semerssuaq (duo with JD Zazie), The Secretaries (with Felicity Magnan and JD Zazie) and with the DJ collective Sistemi Audiofobici Burp.
SEC_
Based in Napoli, Italy, SEC_ plays a personal system of devices composed by Revox tape recorder, no-input feedback manipulated on tape and computer. His sound research is on the edge of musique concrete and digital processing, characterized by sudden cuts, imperfect repetitions, fast passages and deep noise blasts. Fascinated by the points of contact between human and animal, in his music there's often an obscure narrative factor obtained through the straining of sound materials, expecially in a rythmical way.
Founder of the label Toxo Records, SEC_ regularly plays with Aspec(t), highly emotional electro-acoustic duo with Mario Gabola, and Weltraum, avant-rock power trio. He is going to release his first solo composition "Music for a becoming-insect" with the Austrian radio Kunstradio, and his collaboration with Jerome Noetinger.
Doors open at 21:30
Concerts start at 22:00
Tags: Altes Finanzamt, JD ZAZIE, MAT POGO, sec_, WJM