?ALOS & JD ZAZIE
September 16th, 2007

?Alos
September, 29 2007 at Staalplaat
Tor str. 68, Berlin,
at 18:30
Opening: "Ricordi Indelebili" Stefania Pedretti's Exibition with ?Alos performance "one girl sewing music"
and a dj set by JD Zazie of the burp system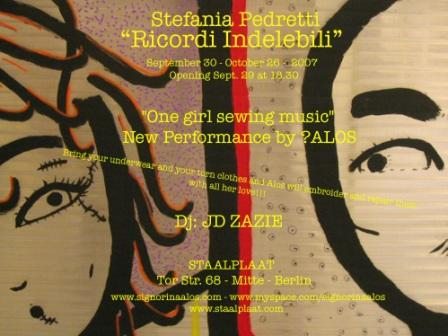 ?ALOS "ONE GIRL SEWING MUSIC"
The performance
?Alos "one girl sewing music" : bring your underwear and your torn clothes to the show and ?Alos will embroider and repair them with all her love.
"One girl sewing music" is a performance about emigration or immigration and one of the classic, traditional and old female jobs: to SEW.
Millions of people move to other country to realize a dream and most of them finish to do some horrible and not well paid job. ?Alos is one of them, one of these women. She moved to a big city to become a "STAR" but she became a little dressmaker, and work for a puppets factory in a dark cellar.
During the performance she will repair, embroider what the people will bring to the show in a "retrò", sweet, funny and decadent atmosphere.

?Alos "Sola!"