JEALOUSY PARTY'S AGAIN NEWS
August 14th, 2007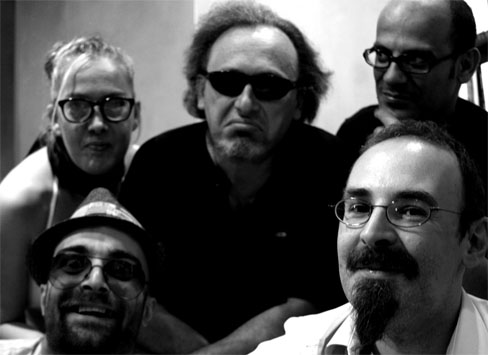 Some summer news about the Jealousy Party recent efforts.
It seems that the mixing of the new album "Again" is finally ended.
At this moment we allready know the tracklist even if some titles could still change.
The album consists of nine tracks.
Amaranta's Dance
(Let The Music) Play On
Dado Stomp
No Melody
Stamps
Target Boy
Echoes Of Harlem
Danno Alla Fiera
Eclipse
Five original compositions and, surprisingly enough, four cover versions. Originally by Steve Lacy (you can listen a rough version of Stamps on their myspace page), Mingus, Ellington end Kevin Coyne.
Next step will be the mastering at Fiscerprais Studio.
Go back to older posts for more informations, pics and clips .
Anyway the album will be published during the Fall. We will let you know exactly when.
Right now they are working on a tour at the end of October. In Italy between 15 and 21 October and in Germany and the Netherlands until the end of the month. Soon the details.
For now enjoy some Jealousy Party vibes for your listening pleasure.
If in the album you will get the Jealousy Party extended group (kind of a mutant sextet/septet/octet) dealing with r&b, jazz and hardcore pop music forms in a direct way as you never heard them, here you can listen to some more free form struggling by the JP core of WJ Meatball, Mat Pogo and Edoardo Ricci.
These recordings were made during the "Again" sessions but they sound totally different compared to the material included in the album. It's a promise and a challenge.
Get it now.
Jealousy Party – JP playtime – part 1.mp3
Jealousy Party – JP playtime – part 2.mp3