September 3rd, 2011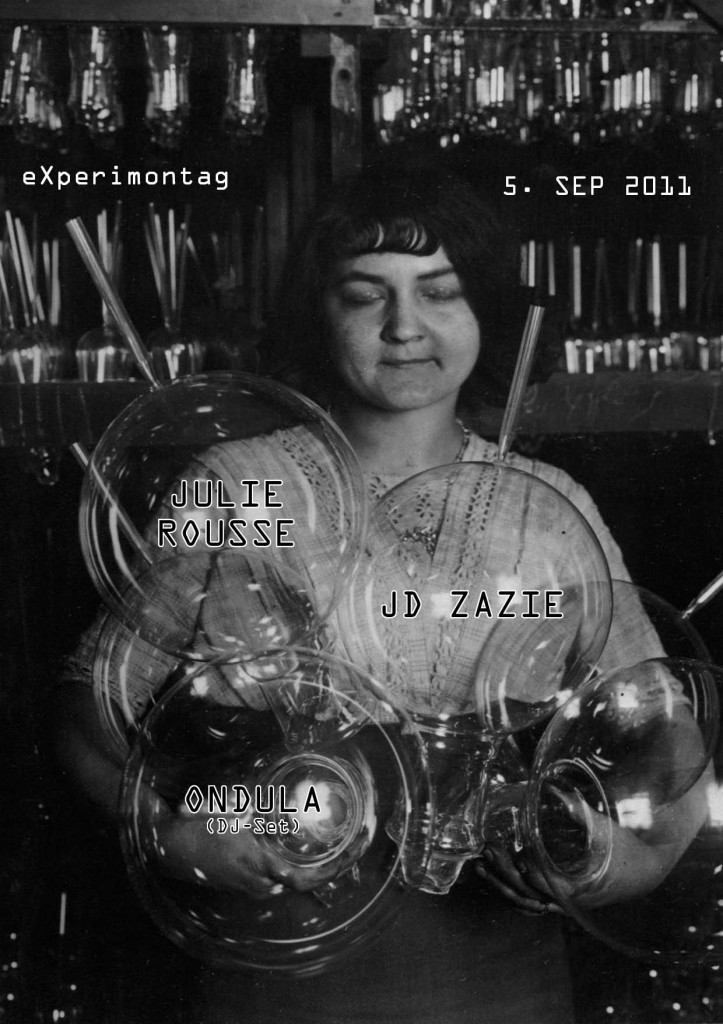 Monday September 5th
eXperimontag
JD ZAZIE
JULIE ROUSSE & OLVIER DI PLACIDO
ONDULA DJ set
Madame CLAUDE
Lübbener Str.19
Berlin, Germany
Turntable Music Night 7: JD Zazie from STEIM Amsterdam on Vimeo.
JD ZAZIE
JD Zazie is an italian sound artist and recordist based in Berlin.
Coming from a DJ and a radiophonic background JD Zazie has explored over the years different approaches of real-time manipulation on fixed recorded sound.
In her work she redefines DJ and electroacoustic activities. As a solo performer, in small groups or large ensembles she moves in an area which is constantly stretching the borders of what is supposed to be DJ mixing, free improvisation and composed music.
Intended as music instruments CDjs, turntables and mixer are her tools to mix the specific sound-sources she plays (mostly electronic music, electroacoustic music, musique concrète, field recordings and improvised music).
The typology of the sound-sources varies from already existing audio publications and sound effects, to self recorded audio files – as live-set and field-recordings -, to selected pre-mixed material. Juxtaposition, decontextualization, fragmentation, repetition, sonic texture, scratch and error are elements of the grammar adopted to relate, organize and rearrange the sound material following her "Äpfelzerstörer's method".
In her sound installations she explores everyday life, refers to urbanism and relates to sound atmosphere. In her works is easy to find the connection between her study in architecture (bachelor) and her postgrad in sound art (master in Sound Studies) at UdK Berlin.
She has participated in several exhibitions, festivals and events in Europe, UK and Canada [among the most recents: Festival Ankunft: Neue Musik (DE), Tuned City (EE), Echtzeitmusiktage 2010 (DE), Turntable Night 7 at STEIM (NL), Audioscoop / IntroInSitu (NL), Das kleine Fieldrecordings Festival (DE), Avantgarde Festival Schiphorst (DE), Soundscape and Listening (AT)] as well as being a member of the italian label Burp Enterprise and being active in the team of Staalplaat Radio.
Latest tracks by JD Zazie
JULIE ROUSSE & OLIVIER DI PLACIDO
Julie Rousse
Self-taught sound artist, it is in theatre she made her first steps as a noise composer in Montreal.
Collector of sounds she finds in the streets of the world, this raw material is for her an infinite source of rhythms and colours, which she shapes with real time sound treatment software – real time being the essential element of her spontaneous and chaotic approach.
Her main idea is to regain an organic feeling in music by means of electronic devices and improvisational acts. Working between composition and improvisation, she has developed her very own resonant and poetic universe, with a marked taste for abstract narration, turbulence of details and inextricable disorder of life.
Her work has been shown in France, Canada, USA, Chile, Croatia, Germany, Belgium, Lituania, Netherlands – in international music festivals and venues.
listen to some tracks here
Olivier Di Placido is a self-taught musician who performs on electric guitar. His approach is mainly focused on the manipulation and the sonic possibilities of each elements of the guitar as a sound source (Unscrewed neck, unfixed pickup, broken strings or not, electricity and short circuit, frets, whammy bar…).He's ausculting and trashing them all by mooving the pickup around the instrument. He develops a world of tension and rupture with an interest for non narrative structure and spontaneous form.
ONDULA (DJ-Set/avant-rock/Berlin)