BURP RENDEZ-VOUS AT RAUM 20 – BERLIN
January 3rd, 2011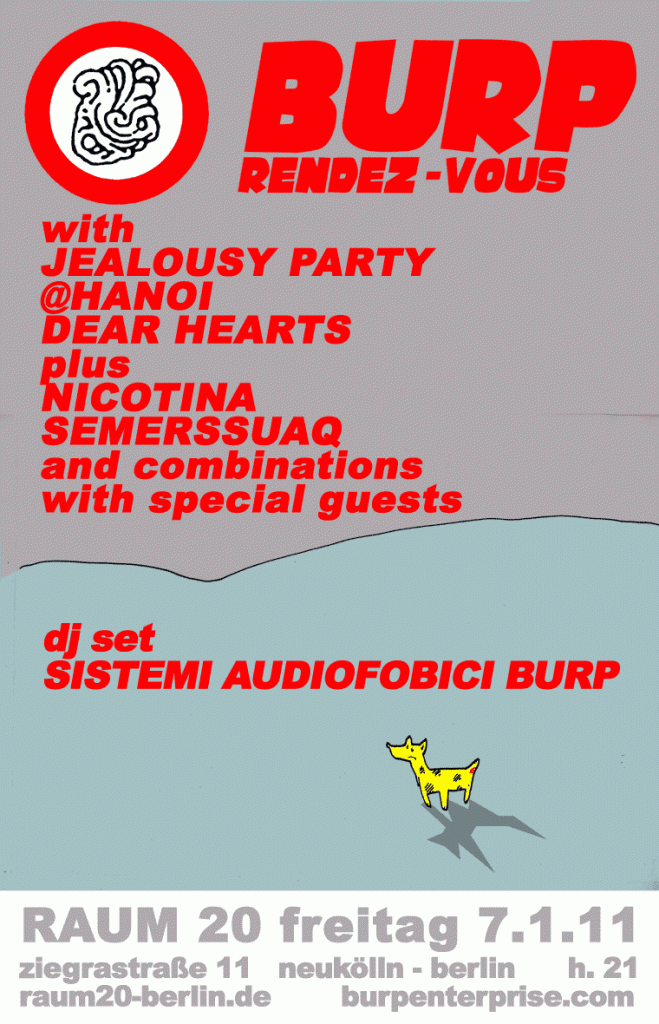 Friday, January 7th 2011
Raum 20 – Berlin
BURP Rendez-Vous
Burp Enterprise collective will meet in Berlin in early january.
They will be partying next friday in Raum 20.
Come if you want to taste the original flavour of muscled colonial music and punca.

DJ's collective Sistemi Audiofobici Burp will twist recordings through the evening with their selections of freesoul, contemporary mod, casual tunes, punca and error music.
Plus short live sets by
JEALOUSY PARTY
@HANOI
DEAR HEARTS
NICOTINA
SEMERSSUAQ
and open combinations featuring special guests.
raum 20
ziegrastrasse 11
neukölln
www.raum20-berlin.de
www.burpenterprise.com
JEALOUSY PARTY
Punca Masters JP play abstract funk disaster with a bitter aftertaste (from Florence – Italy)
Wjm: mix, cd players, mics
Mat Pogo: mix, cd player, vocal
Edoardo Ricci: alto, soprano, sopranino saxophones, bass clarinet
Stefano Bartolini: tenor, baritone, soprano saxophones
Jimmy Gelli: mix, electronics
Nicotina: guitar
@HANOI
brand new selftaught noise duo from Florence – Italy
Edoardo Ricci: electronics, reeds
Stefano Bartolini: electronics, reeds
DEAR HEARTS<
guitars and vocals r'n'r duo from Rural Brooklyn – NYC – USA
Miss Lucky Haskins: guitar, vocal
Nicotina: guitar
SEMERSSUAQ
free form cut'n'roll duo (Florence / Berlin)
Wjm: mix, cd players
JD Zazie: mix, cd players
NICOTINA
master of casual guitars
Tags: @HANOI, burp enterprise, JEALOUSY PARTY, NICOTINA, raum 20, semerssuaq