ANARCORURAL AGROFREEJAZZ BAND
October 20th, 2010
is a new group featuring members of Squarcicatrici, Tsigoti, N.E.E.M Orchestra, Padouk and Jealousy Party among the others.
They will play for the first time in a short tour in Italy performing their unique blend of popular/folk, free jazz, free improvised and noise music
november 5th – La Scighera, Milano
november 6th – Lab Desir, Feltre (BL)
november 12th – Arci BLOB, Arcore
november 13th – Centro Stabile Cultura, Schio (+ R.U.N.I.)
The Anarcorural Agrofreejazz Band is
Edoardo Ricci – sax sopranino, soprano & contralto, clarinetto basso, trombone, circuit bending
Stefano Bartolini – sax soprano, tenore & baritono, circuit bending
Francesco Di Mauro – sax soprano & baritono
Andrea Caprara – basso elettrico
Jacopo Andreini – batteria
Questa formazione attinge a piene mani dal canzoniere anarchico, reinterpretandone in chiave freejazz le melodie, improvvisandone le strutture e gli accompagnamenti, aggiungendo o sostituendo con temi propri gli sviluppi, gli svolgimenti per dichiarare la possibilità di un approccio libero e non filologico alla materia. I cinque musicisti hanno suonato insieme in decine di formazioni diverse dal 1973 fino ad oggi, centinaia di esperienze, migliaia di concerti in ogni tipo di luogo e situazione. Tutto per cercare di scovare nel 2010 nuovi suoni e nuovi significati tra le note di una musica così diretta e intensa.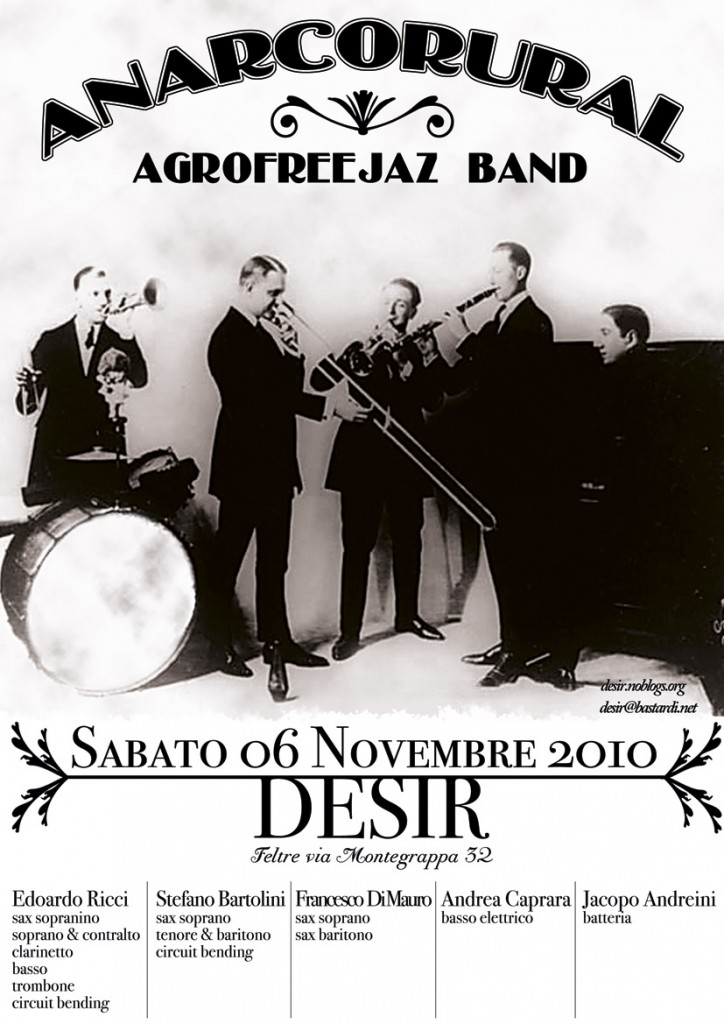 Tags: ANARCORURAL AGROFREEJAZZ BAND, andrea caprara, edoardo ricci, francesco di mauro, jacopo andreini, STEFANO BARTOLINI