MANUCINEMA WITH THOLLEM MCDONAS IN SOWIESO – BERLIN
October 18th, 2010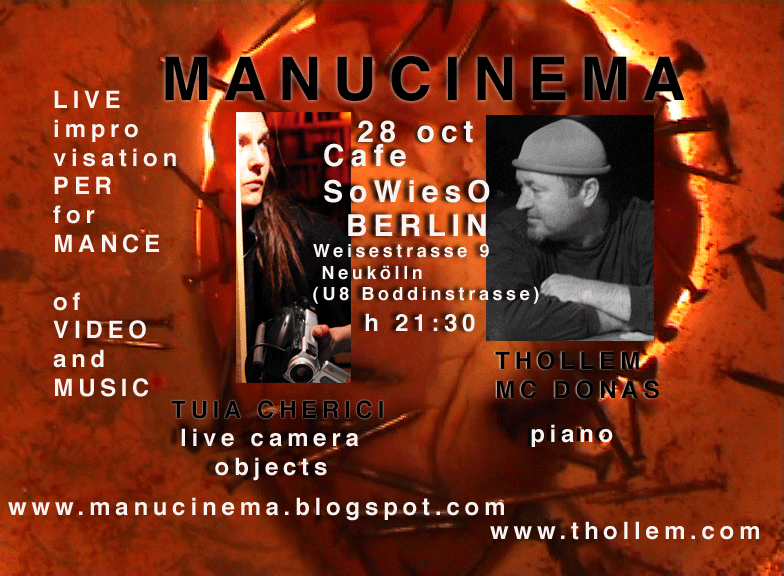 Tuia Cherici and Thollem Mc Donas will perform as Manucinema at Sowieso in Berlin on thursday october the 28th
Manucinema is a live set of cinevisual and music improvisation on hand-made short films and direct life on stage
Tuia Cherici works on video using different technics (stop motion, collages, animation with liquids) creating a very rich content of strong images, and an easy tool to describe facts and emotions.
Manucinema starts when video meets music in the direct way of improvisation, and the projection assume an own unrpeatable life through different optical happenings (lense distorsions, colours games, hand made lights effects, ecc)
Nowadays Tuia uses to perform Manucinema in a deep collaboration with music improvisers, who normally see the video for the first time just right on the live performance.
There's no accepted hierarchy between music and the videoprojection! Both communicate with each other following faithfully the instinct of the immediate present.
Thollem McDonas, pianist/comproviser, was born and raised in the San Francisco Bay Area of Irish and Cherokee descent. Not long after birth he began studying the keyboard repertoire from the medieval to the 20th century. After graduating with degrees in both piano performance and composition he dedicated his time for years in grassroots political movements and ecological restoration projects before coming back to music with his full focus. He is currently touring perpetually, mostly as a soloist but also in collaboration with many other individuals and groups.
Thollem's extensive travels as a performer and teacher have covered much of the North American continent and Europe (he often leads listening and group improvisation workshops). He is a founding member of several innovative ensembles all of varying and disparate musics. In the past 6 years he has added 20 albums to his discography on 9 different vanguard labels in 4 different countries. His music is diverse, with each album and every concert exploring a variety of approaches and paths, resulting in dramatically different outcomes.
Thollem is a recipient of the 2009 US Artists International Award as the founder and Artistic Director of Estamos Ensemble as well as a CAP grant this year from the American Music Center. He was commissioned by The Limon Dance Company for a large-scale piece in commemoration of their 50th year anniversary. In September 2008 he was invited to perform the late works of Claude Debussy on the piano on which they were written, as well as his own comprovisations with Stefano Scodanibbio. "OnDebussy'sPianoAnd…" (Die Schachtel – September, 2010) is the first album ever recorded on Debussy's piano.
Tags: MANUCINEMA, sowieso, thollem mcdonas, tuia cherici