ERASE & RESET 2009/09/11 – BERLIN
September 8th, 2009
ERASE & RESET
11.09.2009 21:00 – 12.09.2009 09:00
@ SOPHIENSAELE BERLIN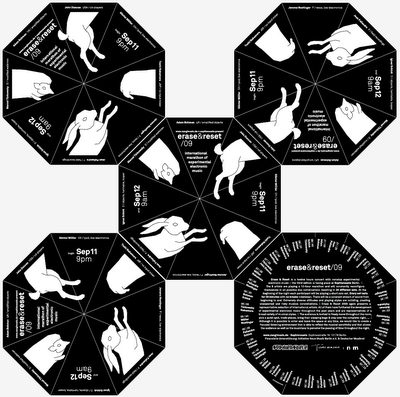 ADAM BOHMAN (UK) – amplified objects
COR FUHLER (NL) – ems synth
JOHN DUNCAN (USA) – cd-players
GÜNTER MÜLLER (CH) – live-electronics
TOSHI NAKAMURA (JAP) – no input mixer
JEROME NOETINGER (F) – revox, live-electronics
IGNAZ SCHICK (D) – objects, turntables, looper
MARCEL TÜRKOWSKY (D) – modified walkmen
ERASE & RESET is a 12 hour marathon concert involving 8 musicians. The continuos flow of music will start at 21:00 and not end until the next morning at 09:00. The event will present each musician in a short solo set and will then proceed to a marathon of all possible duo combinations. Each sets last for 20 minutes.
For the third time, Erase & Reset reunites an international line-up of electronic experimental musicians who have been working for years on furthering developments in electronic music and, at the same time, managed to avoid the trapdoors of fashionable genres.
Again we invited players of very diverse stylistic backgrounds and instrumentation. Many of the participants will meet & play together for the first time.
The audience is welcome to stay over night at the Sophiensaele. Bring your sleeping bag and make yourself comfortable!
A production of Zangi Music with the financial support of Initiative Neue Musik Berlin e.V. & Deutscher Musikrat e.V.
Tags: adam bohman, cor fuhler, günther müller, ignaz schick, jerome moetinger, john duncan, marcel türkowsky, sophiensaele, toshimaru nakamura, zangi music