ARRACHE-TOI UN OEIL LE PETIT MIGNON
May 20th, 2009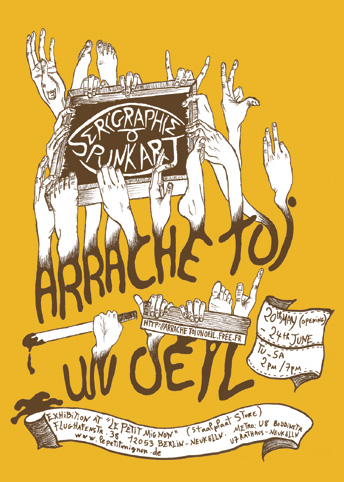 If you are in Berlin (Tonight!) Wednesday, May 20th 19:00/7pm there's a juicy event at Le Petit Mignon / Staalplaat!
Programm:
-Exhibition:
Arrache-Toi Un Oeil gig posters exhibition
Paris based DIY collective Arrache-Toi Un Oeil (Emy Rojas andGaspard Le Quiniou) will show their limited editions of silkscreened gig posters at Le Petit Mignon from May 20th to June 24th!
-Concerts:
.Mahmoud Refat (Egypt)
.Geert-Jan Hobijn (Staalplaat Sound System)
-Screening:
Maradona, a documentary by Emir Kusturica
AND! some good old crappy musical entertainment by Pato
AND! booze served by Rinus Pfand Alles Weg of course…
Location:
Le Petit Mignon / Staalplaat, Flughafenstr. 38
Ubahn/Metro U8 Boddinstr. or U7 Rathaus Neukoelln
go HERE for more details