TRANS-ADRIATICA
December 6th, 2007
Jacopo Andreini together with François R. Cambuzat and Chiara Locardi are L'Enfance Rouge.
They organize the travelling festival Trasporti Marittimi, now at his 5th edition.
A weird pact between L'Enfance Rouge and Hurlements d'Leo was declared this year: LaRépublique du Sauvage
"La Constitution", first album of "République du Sauvage", is published by FromScratch Rec and distributed in France by IRFAN.
Check them all (+ Vuneny and DJ Faccia Di Merda) in the motherweb and especially live.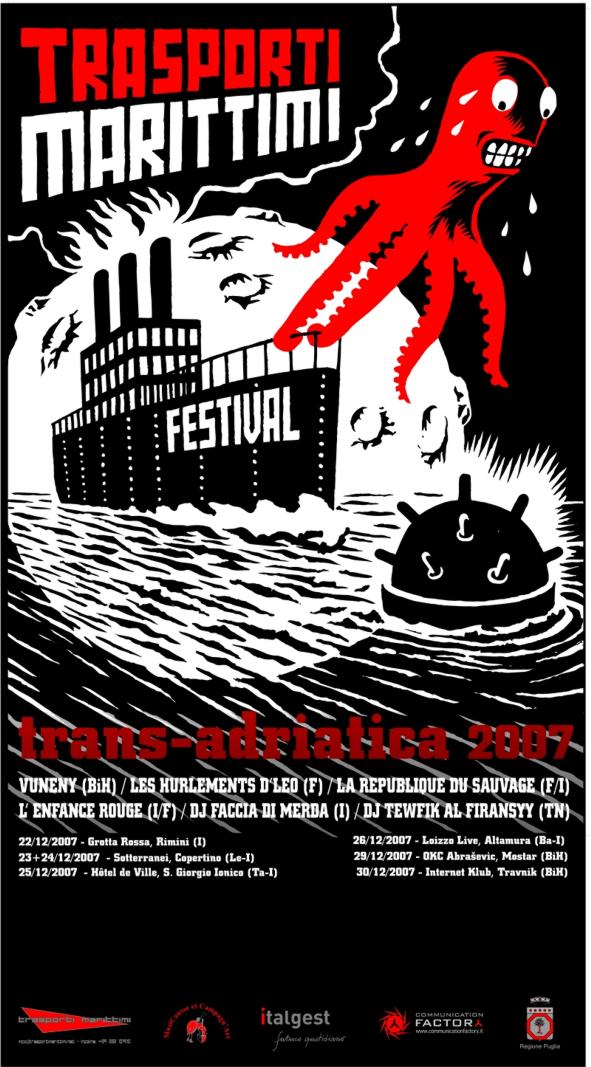 Festival Trasporti Marittimi 2007/2008 quinta edizione
Trans-adriatica
sabato 22 dicembre RIMINI /// Grotta Rossa:
L' Enfance Rouge (F/I) + Vuneny (BiH)
domenica 23 dicembre COPERTINO (Le) /// Sotterranei:
L' Enfance Rouge (F/I) + Vuneny (BiH)
lunedì 24 dicembre COPERTINO (Le) /// Sotterranei:
Hurlements D'Léo (BiH/F) + La République du Sauvage (BiH/I/F)
martedì 25 dicembre S. GIORGIO IONICO (Ta) /// Hôtel de Ville/Cooperativa Owen:
L' Enfance Rouge (F/I) + Vuneny (BiH) + Hurlements D'Léo (BiH/F) + La République du Sauvage (BiH/I/F)
mercoledì 26 dicembre ALTAMURA (Ba) /// Loizzo Live:
L' Enfance Rouge (F/I) + Vuneny (BiH)+ Hurlements D'Léo (BiH/F) + La République du Sauvage (BiH/I/F)
sabato 29 dicembre MOSTAR (BiH) /// OKC Abrasevic:
L' Enfance Rouge (F/I) + Vuneny (BiH)+ Hurlements D'Léo (BiH/F) + La République du Sauvage (BiH/I/F)
domenica 30 dicembre TRAVNIK (BiH) /// Alter Art:
L' Enfance Rouge (F/I) + Vuneny (BiH)+ Hurlements D'Léo (BiH/F) + La République du Sauvage (BiH/I/F)
lunedì 31 dicembre KOPER (Slo) /// MKC:
L' Enfance Rouge (F/I) + Vuneny (BiH)+ Hurlements D'Léo (BiH/F) + La République du Sauvage (BiH/I/F)
Info : info@trasportimarittimi.net
www.trasportimarittimi.net
www.enfancerouge.org
www.myspace.com/enfancerouge
www.myspace.com/republiquedusauvage
www.myspace.com/vuneny
www.vuneny.org
www.hurlements.com
www.myspace.com/urlidileo
www.myspace.com/leshurlementsdleo