CASUAL GUITARS & SLAPPODROME
November 6th, 2007
Nicotina posted four brand new casual guitar (de)compositions!
Casual guitar is a process that courts te "areas of ignorance of the player's conscience", a zig zag course between musical sediments which are nonetheless employed and stepped through.
Listen to Casual 9, Casual 90, Casual 56 and Casual 80 here
The picture above is by Linda Treash, check her site here
And then after the reunion this summer he played back again with Barnacled.
They played in Providence (Rhode Island) at the Corleone Fest, celebrating ten years of the label's activity.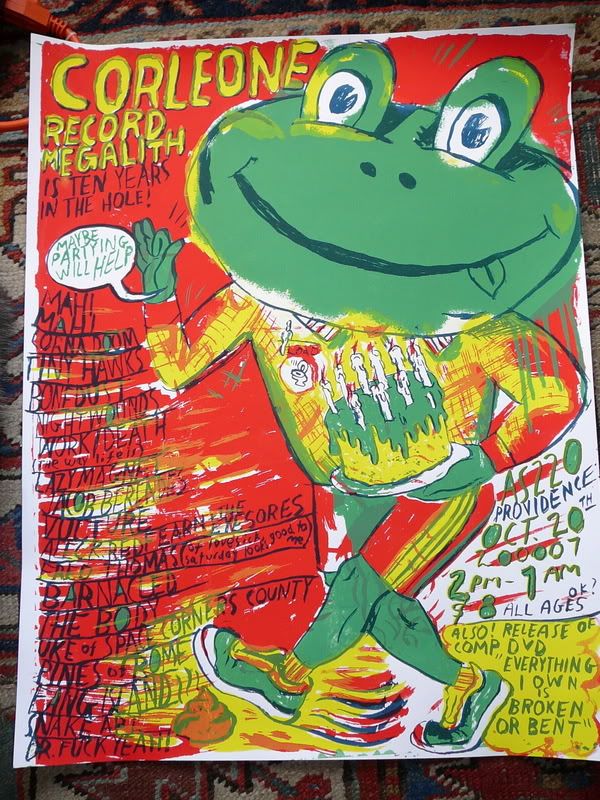 The first day Nicotina played with Barnacled and -the second day, dedicated to duo combinations- with Thollem McDonas.
Watch here Nicotina's Slappodromo in the blistering Barnacled rendition.
Barnacled
AS220 Corleone Records 10th Anniversary Show
October 20, 2007
Slappodrome by Nicotina
Members:
(front row)
Alec K. Redfearn-accordion
Jason McGill-alto saxophone
Erica Schattle-bassoon
Michael Jeffries-baritone saxophone
(back row, sometimes hiding in the shadows and behind other band mates)
Ann Schattle-french horn
Nicotina-guitar
Chris Sadlers-upright bass
Matt McLaren-drums
Frank Difficult-electronics
and here one more piece from the same gig : Vulcanising Society