KOMIKAZEN 3
October 2nd, 2007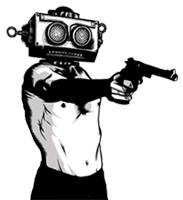 KOMIKAZEN: 3° Festival Internazionale Del Fumetto Di Realtà.
Cartografia dell'Europa a fumetti. A Ravenna, dal 12 al 13 ottobre 2007, gli autori europei più importanti delle riviste e dei festivals underground.
Si apre venerdì 12 ottobre con un workshop che vedrà riuniti autori e organizzatori da tutta Europa il 3° Festival internazionale del fumetto di realtà "Komikazen". L'incontro, che avrà luogo all'Albergo Cappello di Ravenna, vedrà la partecipazione non solo di autori di riviste storiche come "Strapazin" (Svizzera), "Babel" (Atene), "Glomp" (Finlandia), "Chili Com Carne" (Portogallo), ma anche le nuove autoproduzione dei nuovi paesi membri come la Romania, attiva sia sul piano dell'autoproduzione con la rivista "Hard Comics", sia dei festivals. Per la prima volta in Italia saranno ospiti anche i giovanissimi autori di "Stripoteka", un collettivo bosniaco con sede a Sarajevo. Sarà una giornata importante per conoscere da vicino le storie e i progetti degli editors dei magazines europei, ma anche per mettere a punto una progettualità comune per il futuro (lo scambio di autori, di mostre, ecc.).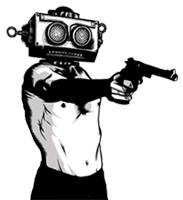 La partecipazione alla giornata è aperta al pubblico previa iscrizione.
Il Festival raggiungerà il suo clou nella giornata di sabato 13 ottobre con l'apertura alle 11.00 della mostra collettiva "Cartografia dell'Europa a Fumetti" presso il Museo Nazionale di Ravenna. L'importante istituzione ravennate ospita una collettiva di circa cinquanta autori europei provenienti dalle riviste invitate. La mostra permette un viaggio virtuale nell'immaginario giovanile di un Europa che ha allargato i propri confini e che sembra a prima vista avere confini molto permeabili al transito delle storie e degli stili di fumetto. Alle 15.30 incontro con l'autore della biografia di Martin Luther King, Ho Che Anderson: l'autore canadese presenta il libro edito in Italia da Becco giallo in galleria Mirada ed espone le tavole originali alla Biblioteca Classense. Un'opera biografica magistrale, che segue da vicino le luci e le ombre del leader afroamericano, in un'epoca che sembra aver completamente dimenticato il laboratorio politico della lotta non violenta. Definita la Graphic Novel più importante dopo Maus, è sicuramente un libro che si muove ai confini del saggio politico, biografia ragionata e del romanzo. Alle 19 di sabato 13, continuano le inaugurazioni con la premiazione della selezione GAER (Giovani Artisti dell'Emilia Romagna) sezione fumetto 2007 presso lo spazio espositivo dell'Assessorato Politiche Giovanili. La commissione ha individuato in Marino Neri (Modena) e Leonardo Guardigli (Massa Lombarda – Ravenna) i giovani autori che vedranno i propri progetti trasformati in libro (editi rispettivamente da Kappa Edizioni e Centro Fumetto Andrea Pazienza), mentre in mostra ci saranno complessivamente dieci autori emiliano-romagnoli. Nello stesso spazio sarà possibile visitare la mostra Honey Talks, realizzata dalla rivista slovena Stripburger e promossa dal Ministero della Cultura Sloveno. Un progetto che si muove tra fumetto e antropologia. Difatti, le tavole originali esposte sono ispirate ai pannelli decorati sulle arnie degli apicoltori sloveni. Hanno partecipato al progetto autori come Anke Feuchtenberger, Danijel Zezelj, Rutu Modan, Matthias Lehmann e molti altri. Inaugurazione allo scoccare della mezzanotte del collettivo marsigliese Le Dernier Cri presso la galleria Mirada con degustazione di assenzio e musica dal vivo realizzata dal gruppo. Gli stakanovisti del libro a tiratura limitata creano un caos feroce di estetica anomala. In mostra e in vendita le loro originali creazioni serigrafiche, proprio all'ultimo grido. Le iniziative del festival del 13 ottobre si intersecano con la programmazione della notte d'oro, organizzata dal Comune di Ravenna e dagli esercenti del Centro Storico: disegnatori saranno presenti in molti locali della città per disegnare libri, con proiezioni e altre sorprese e Ravenna sarà città aperta fino alle prime luci dell'alba. Le mostre saranno aperte fino al 15 novembre 2007, fatta eccezione per la mostra dei Dernier Cri che chiuderà il 6 novembre. A chiusura del festival, L'uomo cane suda olio – personale di Stefano Ricci che apre il 10 novembre a galleria Mirada. L'esposizione è realizzata in occasione della permanenza a Ravenna di Ricci, ospite di Ravennateatro per un progetto all'interno del Teatro Rasi.
Per le biografie e il dettaglio degli autori in mostra e degli ospiti: www.mirada.it/komikazen Per informazioni: info@mirada.it tel. +39 0544 217359 oppure +39 346 4925633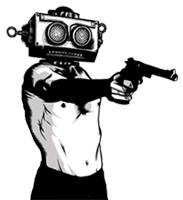 On Friday, the 12th of October, the 3rd International Festival of Reality Comics will open with a workshop involving authors and promoters coming from all over Europe.
Authors of well-known magazines like Strapazin (Switzerland), Babel (Athens), Glomp (Finland), Chili Com Carne (Portugal) and new self-productions coming from new members of the EU, like Romania, active with the magazine Hard Comics and with various festivals, will participate at the meeting at the Albergo Cappello in Ravenna. For the first time in Italy, there will be the young authors of Stripoteka, a Bosnian collective based in Sarajevo.
It will be a very important day to closely get to know stories and projects of European Magazines editors and to organize a common plan for the future (authors exchange, exhibitions…).
The participation in the event is open to the public upon registration.
The Festival highlight will be on Saturday the 13th of October, with the opening of the collective exhibition European Comics Cartography at the Museo Nazionale of Ravenna. This prestigious institution hosts an exhibit of about 50 European authors working in all the invited magazines. The exhibit opens up to a virtual journey, through the youth imaginary, in Europe, a country that widened its borders allowing the flow of comics' styles and stories.
At 3.30 p.m. there will be the meeting with the author of "Martin Luther King", Ho Che Anderson: this Canadian author will present the book, published in Italy with Becco giallo in the Mirada gallery, and will show his original plates at the Biblioteca Classense. A masterly biographical work, which closely follows the light and shade of the Afro-American leader and points out how everyone seems to have forgotten about the political lab of non-violent conflicts. Considered the most important Graphic Novel after Maus, it is a book that touches the boundaries of the political essay, the annotated biography and the novel.
At 7 p.m. on Saturday the 13th, there will be the prize giving of the GAER (Giovani Artisti dell'Emilia Romagna) selection, comics' section 2007 in the exhibition room of the Assessorato Politiche Giovanili. The commission chose Marino Neri (Modena) and Leonardo Guardigli (Massa Lombarda – Ravenna) as the young authors whose works will be published (Kappa Edizioni and Centro Fumetto Andrea Pazienza).
On show there will be 10 authors coming from Emilia Romagna.
In the same room there will be the exhibition Honey Talks, organized by the Slovenian magazine Stripburger and promoted by the Slovenial Cultural Department. A work in between comics and anthropology. The decorated beehives of the Slovenian beekeepers inspire the original plates.
Anke Feuchtenberger, Danijel Zezelj, Rutu Modan, Matthias Lehmann and many others artists took part in the project.
At midnight the collective from Marseilles Le Dernier Cri, will inaugurate at the Mirada gallery, with absinth tasting and live music. The Stakhanovites of limited edition books create a wild chaos of anomalous esthetic. On show and on sale their original serigraphies, the latest fashion.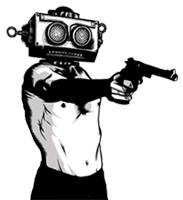 The 13th of October festival events will intersect the Notte d'Oro Festival, organized by the Ravenna Municipality and by the city centre shopkeepers.
Artists will go around town to draw books, show videos and surprises and Ravenna will be an open city until dawn.
The exhibitions will stay open until the 15th of November, except for the Dernier Cri that will close the 6th of November.
For the closing of the Festival "L'uomo cane suda olio" – personal exhibit by Stefano Ricci, opening the 10th of November at the Mirada gallery. Stefano Ricci is in Ravenna for a project with Ravennateatro.
For biographies and information about the festival, the authors on show and guests contact:
www.mirada.it/komikazen
info@mirada.it tel. +39.0544 217359 or +39 346 4925633



click the page to continue reading this strange superhero story by Marino Neri