WALKING BOSS
November 1st, 2011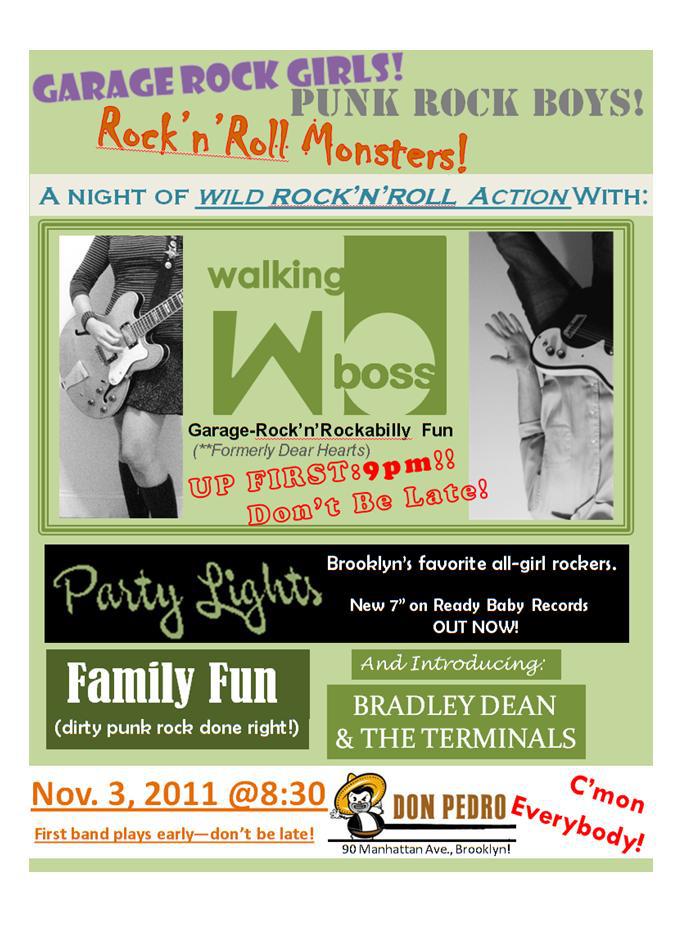 EARLY SHOW!
Ready for an awesome night of Garage, Punk, and rock'n'roll action?
C'mon out to Don Pedro on Thursday, Nov. 3–and don't be late!
We've got the rockin' ladies of Party Lights
The noisy lads of Family Fun
The super awesome debut of Bradley Dean & the Terminals
And, up FIRST at 9pm SHARP(!!!), we've got Walking Boss (who you just might recognize as Dear Hearts with the addition of a drummer–Quitty!–and other mysterious/cool new noises). Their Garage'n'county'n'rockabilly ruckus is sure to get your dancin' shoes movin'! Good times ahead.
See ya there!
Who is playing:
9pm FOR REAL!!!
Walking Boss
Party Lights
Bradley Dean & the Terminals
Family Fun
We'd say get there by 8:30, grab a drink and chill. Show starts at 9pm–SHARP!
This show starts early so we can get you all outta here by midnight. You wanna get your beauty sleep for Friday, right?
See you there!
Tags: DEAR HEARTS, familt fun, Party Lights, walking boss