@HANOI AT DOITYOURTRASH 3.0 NEXTEMERSON
May 12th, 2011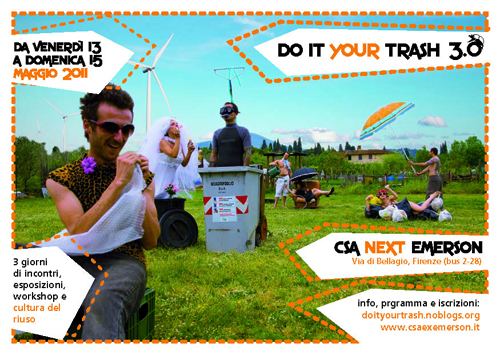 Hi folks,
time has come for the third edition of Do it YourTrash, a three-day festival dedicated to ecology and the question of trash self-management. The festival will feature theoretical workshops on waste mass-disposal, technical seminars on garbage materials and on recycling, meetings, exchange of real-life experiences, concerts, radio live broadcasts and shows.  Don't miss it!
May 13th – 15th – Csa NextEmerson – Firenze
And @HANOI will play on the 14th
here's the program
Hola gente,
rieccoci: terza edizione di DoItYourTrash, una tre giorni dedicata
all'autogestione ecologica della questione rifiuti. Workshop teorici sullo smaltimento
di massa, seminari tecnici sui materiali, insegnamenti pratici sul riuso,
incontri, scambi di esperienze e racconti, concerti, radio e spettacoli!
Da non perdere!
13/14/15 maggio – Csa NextEmerson – Firenze
e @HANOI suoneranno il 14!
qui il programma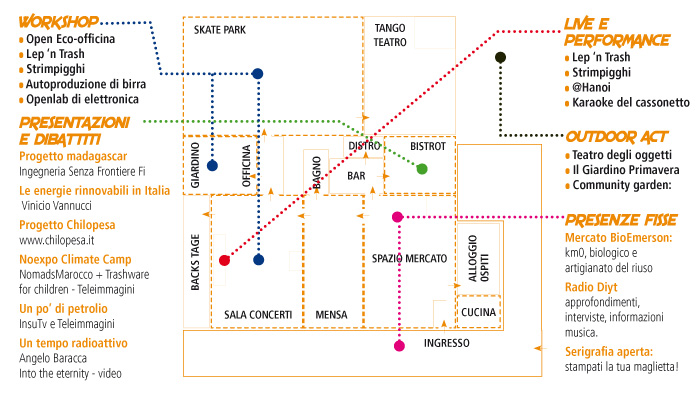 VENERDì 13 MAGGIO

19.00 Apericena musicale con Radio Monnezza
21.00 Progetto Madagascar – Ingegneria Senza Frontiere Fi
22.00 Le energie rinnovabili nella legge italiana – Vinicio Vannucci
SABATO 14 MAGGIO

dalle 10.00 colazione e inizio worshop pratici
* Open Eco-officina
* Lep 'n Trash
* Detersivo biologico
13.00 pranzo
dalle 14.30
* riapertura dei lavori iniziati la mattina
* Openlab di elettronica/protocolli di rete e trashware (Warm up Hackit 2011)
* Li Strimpigghi
* Bombe di semi
15.00 presentazione progetto Chilopesa – www.chilopesa.it
16.00 presentazione Noexpo Climate Camp
17.00 presentazione progetto NomadsMarocco + proiezione Trashware for children – Teleimmagini
18.30 presentazione video Un po' di petrolio – InsuTv e Teleimmagini
20.00 cena
22.00 Un tempo radioattivo – Angelo Baracca
+ proiezione video Into eternity
a seguire
* Autoproduzione di birra
* @Hanoi
* Li Strimpigghi
* Lep 'n Trash
DOMENICA 15 MAGGIO
dalle 10.00 colazione e continuazione workshop pratici
13.00 pranzo
14.00 Incursione di Guerrilla Gardening nel quartiere… e….
* merenda
* spettacolo di teatro oggetti
* presentazione La storia del Giardino Primavera
* presentazione: Community garden: come sovvertire una città, felicemente – Rape metropolitane Milano
18.30 Assemblea Plenaria
19.00 apericena
21.00 Radio Monnezza e CaraOche
Presenze fisse durante i tre giorni:
* Mercato BioEmerson: km0, biologico e artigianato del riuso (sab e dom)
* Radio Monnezza
* Serpica Naro
* Serigrafia aperta: stampati la tua maglietta!

DoItYourTrash 13-15 Maggio
Csa NextEmerson, Via di Bellagio, 15  – Firenze
Tags: @HANOI, doityourtrash, ecologia, edoardo ricci, nEXt EMERSON, riciclaggio, STEFANO BARTOLINI, workshop