March 5th, 2008
Dedicated to Ike Turner the Great this new album by the Jealousy Party puts together soul music, post free jazz, abstract electronics, freeform rock'n'roll, radical impro, orchestral arrangements, spontaneous and selflearned songwriting. In the unique blend the JP knows how to cook!
Structural fragmentation, instant poligarchic organisation, antihypnotic therapy, casual composition and a musclehead approach as mainflavours.
If you follow the link here you will find a selection of music from Again.

in Again you will listen to
WJ MEATBALL: JP Set -mix, cd players, mdplayers, mics, metal and other percussions-
MAT POGO: actual and recorded vocal, mix and cdplayer
EDOARDO RICCI: alto and soprano saxophones, bass clarinet and trombone
JIMMY GELLI: laptop and mix
JACOPO ANDREINI: percussions, alto saxophone, electric and acoustic guitar and piano
ANDREA CAPRARA: bass guitar, tenor saxophone
featuring
STEFANO BARTOLINI: tenor and baritone saxophone
NICCOLO' GALLIO: trombone
RUBEN CALIANDRO: trumpet
MATTEO BENNICI: cello and bass guitar
playing five original tracks between hypothetical arhytmical r&b and an orchestral composition four four mixing desks. And four cover versions originally by Steve Lacy, Kevin Coyne, Duke Ellington and Charles Mingus.
1. AMARANTA'S DANCE
2. PLAY ON
3. JP PUNCA FOR TROMBONES
4. NO MELODY
5. STAMPS
6. TARGET BOY
7. ECHOES OF HARLEM
8. IL DANNO ALLA FIERA
9. ECLIPSE
Recorded and Mixed by Andrea Caprara and Jacopo Andreini
Mastered by Riccardo Gamondi
Is Out for the BURP Publications label in the mhmusic Series
The album will be soon available here through our Colonial Emporium Mailorder.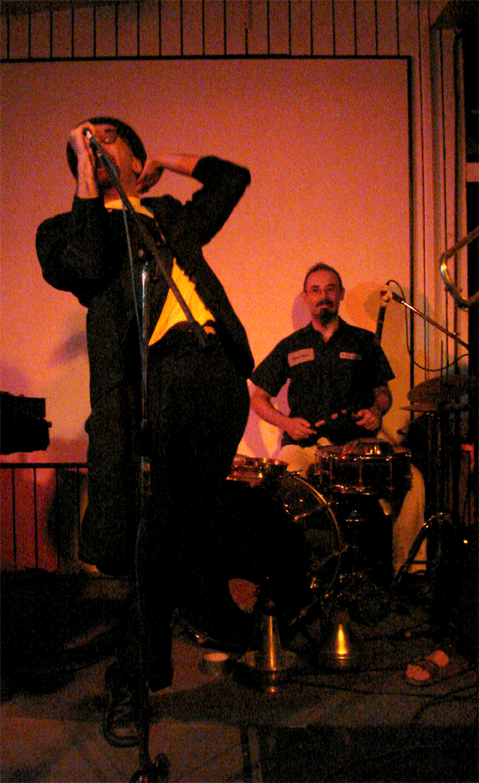 The Jealousy Party will play some gigs in April 2008 to present the new record
2008-04-03 Scatole Sonore w/ A Spirale – Rialto S. Ambrogio – Roma
2008-04-04 w/ A Spirale – Avellino
2008-04-06 Leningrad Café – Pisa
for info
info@burpenterprise.com
Here you can get and listen to a live recording of JP's last October performance at Fuzz in Pesaro during La Notte di Plastica #2. By Plastic and Mirkopratik
WJMeatball, Jimmy Gelli, Edoardo Ricci and Mat Pogo working on the Below Fagin composition
Totally unreleased before!