FUZZ DUELLO IN FLORENCE
September 24th, 2007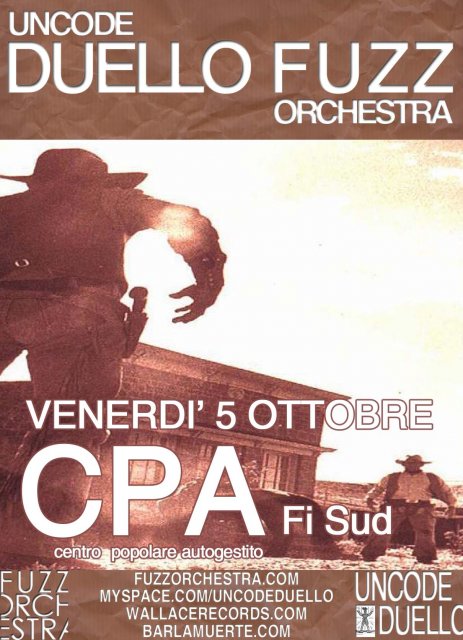 The Fall Of The House Of Burp
-concert series in Florence-
VENERDI 5 OTTOBRE 2007
UNCODE DUELLO +
FUZZ ORCHESTRA
(Milano, Wallace / Bar La Muerte)
+DJ WJM, THX & LOLA
CPA FI SUD
Firenze
via villamagna 27/a
Due delle piu' interessanti formazioni di rock duro liberato operanti in Italia.
Due testimonianze forti dell'agitarsi di certa musica a milano in questi giorni e specie in casa wallace.
Two of the most important projects to come up from the underground free rock scene in Milan. Particularly chez Wallace.
UNCODE DUELLO

PAOLO CANTU' and XABIER IRIONDO — electric guitars, table guitar, baritone guitar, clarinet, organ, piano, tapes, electronic treatments, kalimba, zither, autoharp, drums-
at wallace where you can find biography in italian and english
pics, reviews, interviews and music!
at theirspace where you can find also these two clips
Check out this video: Uncode Duello live at RIALTO 2005Add to My Profile | More Videos
Check out this video: Uncode Duello live at INTERZONA 2005Add to My Profile | More Videos
FUZZ ORCHESTRA

L. Ciffo – guitar / M. Mazzoldi – drums / Fié – noisepiano
check their site
fuzz mysp
and wallace page