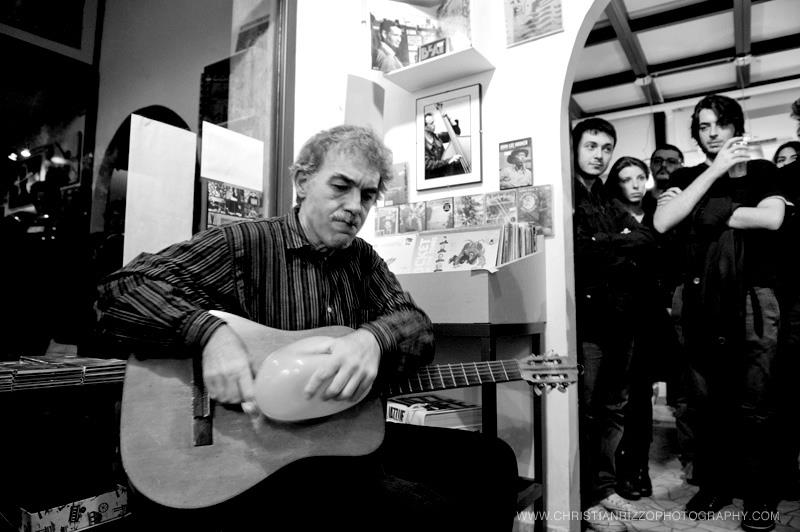 Eugenio Sanna is an extraordinary guitarist both for his unique style and background. For decades he has been dedicated to the development and divulgation of improvised music and sound as a therapeutic tool.
He started playing in the early seventies with the country band Le Storie Del Vento. After being part of many rock bands in the mid-seventies he started to be interested in jazz and improvised music. He's among the founders of C.R.I.M. in Pisa, an organization that in those years organized  concerts and workshops with musicians like Milford Graves, Martin Joseph, Gunther Hampel, Leo Smith and Steve Lacy. He met John Russell, Phil Wachsmann, Derek Bailey and Roger Turner. He started his training as a music therapist. In the late eighties Sanna inaugurated a long collaboration with musicians from Tuscany and Milan including Edoardo Ricci, Stefano Bartolini, Filippo Monico and Roberto Del Piano and joined the N.E.E.M. ensemble.
In the early nineties he explored ambient music and collaborated with Fluxus member Giuseppe Chiari. Among the others, he collaborated with Douglas Dunn, Cheryl Banks, Mauro Orselli, Mike Cooper, Jean Marc Montera, Peter Kowald, Eddie Prévost, Tristan Honsinger, John Edwards, Phil Minton and John Zorn.